Fashion Marketing in recent times has seen the rise of 'strong, independent women' theme. Titan Raga has used this marketing theme since December 2014 starting with the Nimrat Kaur commercial and the hashtag #HerLifeHerChoices. They have continued it with the Katrina Kaif TVC.
The latest TVC of Titan Raga features Katrina Kaif as a bride-to-be, giving advice to girls about why to get married. It made me laugh. The first time I saw the ad, I thought it was a spoof or a meme. When I realised that the ad was real, I was unpleasantly surprised.
Though the reasons mentioned in the TVC for girls saying yes to marriage in India are true, their connect to a wrist watch brand was stretched. The TVC ends with the tagline 'Titan Raga. Khud se naya rishta' . I felt the flow from the thought to the narrative to the tagline and ultimately to the product and brand was not seamless.
But all said and done, the ad does have stickiness since it goes against the stereotypical route taken by most fashion brands during the wedding season.
Behind the scenes
The thought behind the commercial as described by the brand team is as follows:
The brand, along with the agency, did a research, according to which, women no more equate feminity with beauty and sensuality. The new-age woman is independent, confident and secure and is in total control of how she wants to lead her life like……….one who is aware of her self-worth and secure in a new-found, fulfilling relationship with herself.

And probably that is why there is a visible shift in the way the product has been advertised till now……..When Titan Raga first came out with its#HerLifeHerChoices campaign featuring actress Nimrat Kaur, it marked a change in both its target group and the mindset of the Indian woman-Ad Age India
Feedback on the Nimrat Kaur #HerLifeHerChoices ad concept- Notes Mahuya Chaturvedi, managing partner, Cogito Consulting, independent consulting division of the FCB Ulka Group, " In a market where there are many beautiful watches, Raga now gives women a reason for choosing this one." According to her, the film has given new meaning to beauty."It is beauty accentuated with grace, elegance, poise, and the ability to carry oneself in all situations," decodes Chaturvedi.- Afaqs
According to Harshad Rajadhyaksha, Executive Creative Director, Ogilvy & Mather Mumbai, "This is not merely an ad that we have created. We believe that as it plays out in households across the country, the ad will be a thought-provoker, a conversation-starter and a tool for thousands of young women to use, to assert their control over this most important of life decisions. And only an iconic brand like Titan Raga can assume this stance of being a thought leader, reinforcing itself to countless women as their kind of brand."- www.bestmediainfo.com
Basis this background, even though I did not find the brand / product connect in the TVC, I like the thought of the woman having a new fulfilling relationship with herself. So lets try some innovative fashion marketing ideas for connecting this thought with the product and brand more clearly.
If I were marketing @ Titan Raga…
The TG- As per the brand team, the TG is a confident, independent woman- I interpret it as SEC A (with a skew towards working women) in the age group of 25-40.
Marketing Objective- To clearly communicate that Titan Raga watches are the personification of elegant yet strong women.
Sticky Fashion Marketing Ideas:
1. Hers and Hers Pack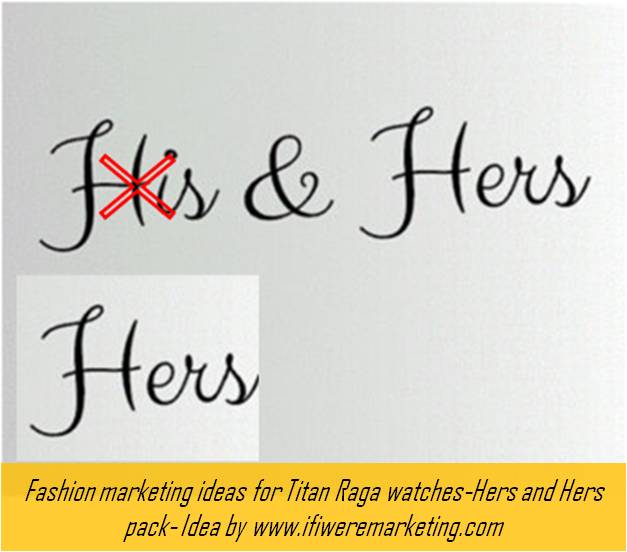 Usually all good watch brands offer 'His and Hers' packs. But since Titan Raga is a brand for the strong independent woman- why not offer two Titan Ragas in a 'Hers and Hers' pack- maybe one for herself and one for her mom/sister/friend- another strong woman.
2. Gifting a Raga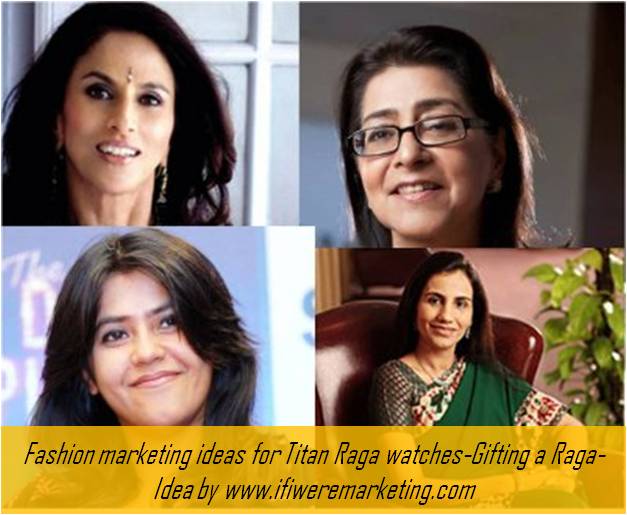 As a PR effort- gift a relevant Titan Raga to each strong, independent, famous Indian woman- namely Ekta Kapoor, Chanda Kochhar, Kiran Mazumdar Shaw, Naina Lal Kidwai, Shobha De and Katrina Kaif (since she is the brand ambassador). Spread the word about the gifting through PR and social media. Example- Share a photo of the MD of Titan gifting each of these women. Each image mentions why the lady was chosen for that Raga. The association with these ladies will be a unique association and an apt tie-up.
3. Special Collections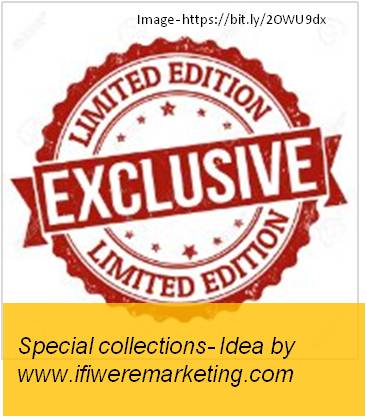 Continuing with the previous idea-temporarily name the respective Titan Raga after each of the above mentioned strong woman like Ekta Kapoor Collection, Chanda Kochhar Collection, etc. No need to change the product name. Just place a small card in the watch box with strong/ motivating message from the respective person about 'Value yourself/ your own TIME'. So the only additional cost will be the cost of printing and inserting the card in the respective box.
4. Social Media Interactive Activity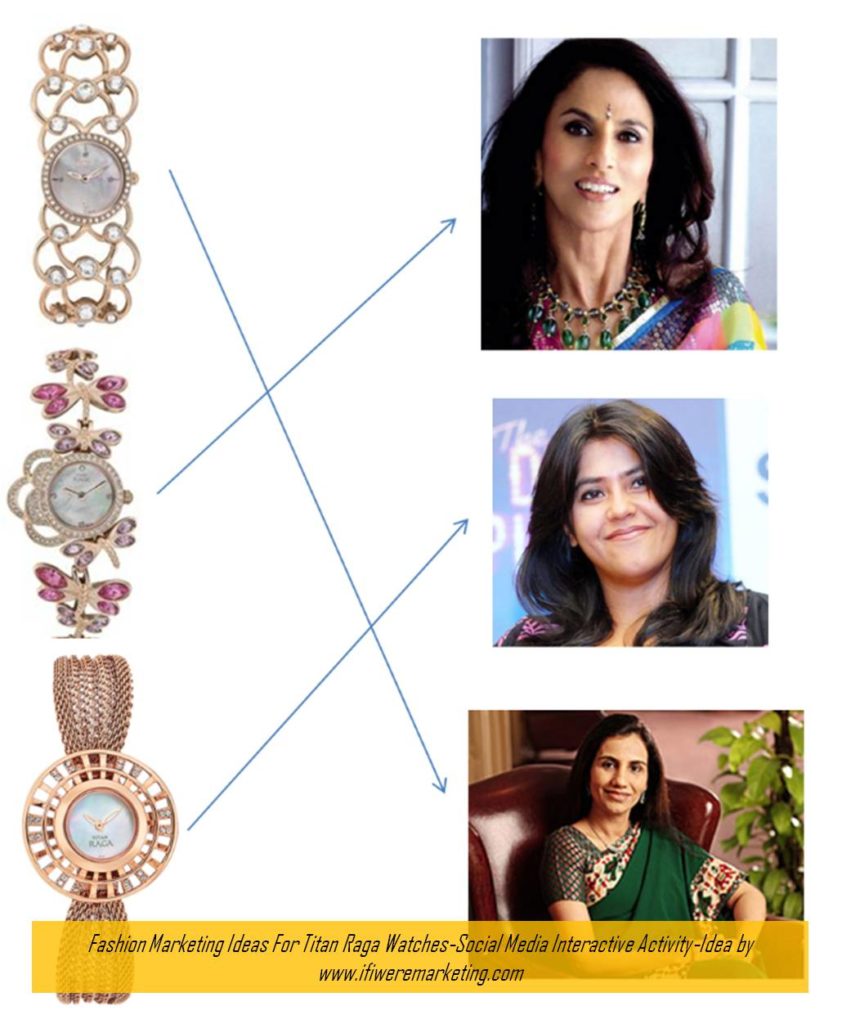 Conduct a sort of'Match the following' on Facebook for the above mentioned gifting PR program, wherein women have to suggest which Titan Raga should be gifted to which of the above mentioned ladies based on their personalities. This will ensure maximum viewership of the entire Titan Raga range of products and give each product a strong personality.
5. Rose and Card @ Starbucks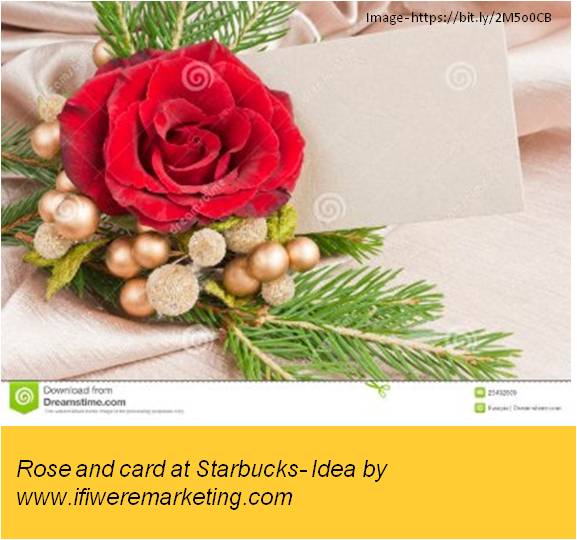 Both Titan and Starbucks are related to the Tata Group. Starbucks attracts the SEC A crowd. And these days a lot of women go to cafes alone either to read or work on the laptop etc. So tie-up with Starbucks to handout a rose and a card to each lady sitting alone. The card says 'With Best Compliments, Titan Raga- Khud Se Naya Rishta'. Place a QR code on the card. When scanned, it should show the range of Titan Raga watches.
6. Trial Room Ticking Poster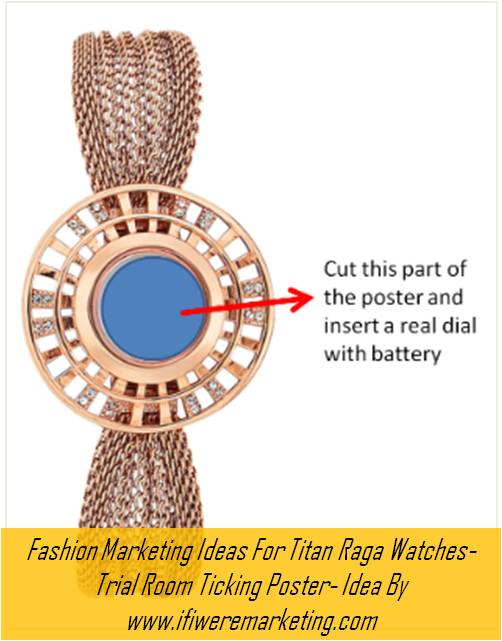 The sale season is currently on. There is a sale at every major shopping mall. In women's trial rooms at brands like Vero Moda/ Only put posters showing a picture of a Titan Raga watch with a real dial in place of the pictorial dial. The message on the poster should say- Titan Raga- Time for yourself. Khud se naya rishta. (If the space cost at other stores is high, then do the activity at Westside trial rooms since that too belongs to the Tata Group and hence may give affordable rates).
7. Taj Hotel Tie-up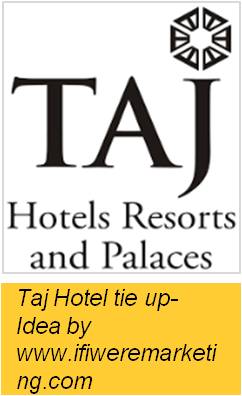 All Taj Hotels have Women's Only Floors. Since Taj Hotels are a Tata group company, tie-up with them. In the elevator at Taj Hotels, put a sticker on the button for Women's Floor. The sticker can say for Titan Raga- #HerLifeHerChoices. The TG is most apt and the setting is appropriate too.
8. Invites and Discount coupons to Women Ecommerce Entrepreneurs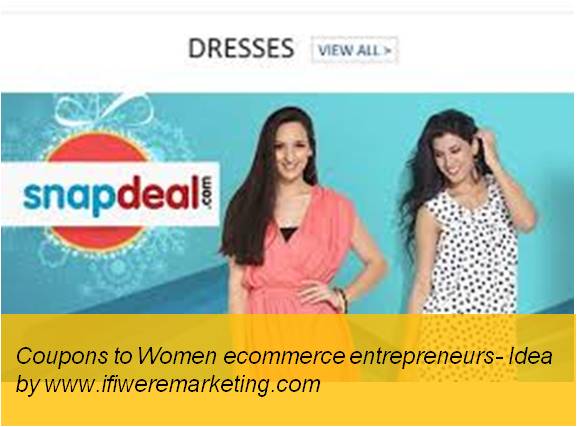 Women entrepreneurs constitute about 20% of the 1 million sellers registered (Business Insider) on sites like Flipkart, Snapdeal, Amazon etc. They are the perfect fit for the brand philosophy and product. Give them giveaways alongwith discounts on their first Titan Raga purchase. Example: send them inspirational videos/ motivational videos/ invites to Women-centric Business Meets, etc.
9. Zivame Tie-up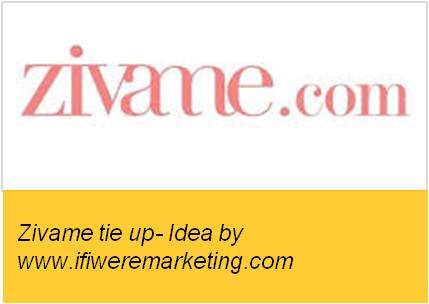 Zivame.com is a women's lingerie site. The customers of Zivame and Titan Raga would be similar. So contact the current or previous customers of Zivame. Example: send an emailer or an offer or just an e-catalog.
These are some of the ideas for better connecting Titan Raga with its tagline and ad message. Do you think they will work in establishing this connection?