This is a guest post from our friends from the DesignBold team, the experts in designing remarkable images…
Social media campaigns remain one of the most effective ways to engage the audience. They allow for creativity and fun, letting brands connect with their targeted audience without worrying about formal guidelines.
There are different types of social media campaigns: some tell the story, others favor audience interaction while some others surprise users with creative visual elements.
Lets explore 10 of the most visually arresting and unique social media campaigns we've seen so far:
10 Visually Arresting Social Media Campaigns…
Taco Bell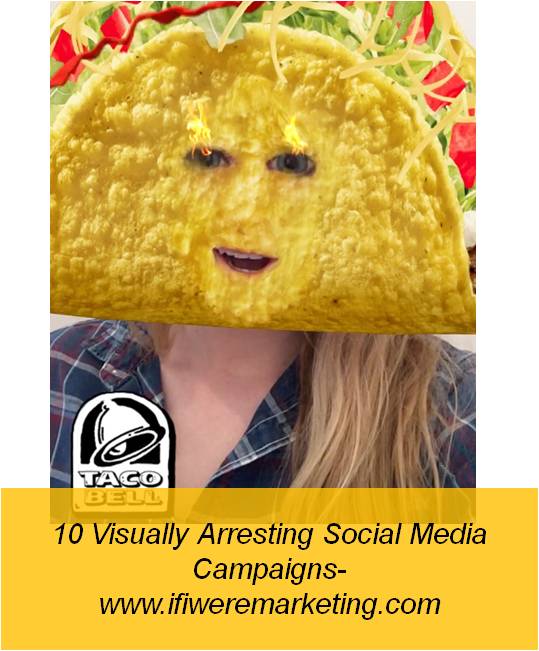 Image Credit – Adweek
Taco Bell is undoubtedly a winner in the improvised social media campaign race. Last year alone, the brand created unique taco shell filters on Snapchat to celebrate Cinco de Mayo. The campaign enjoyed immense success with more than 224 million views in one day.
But what exactly made this campaign so special? It's the mix of fun, visually realistic images and the notion of the brand not taking itself too seriously. Despite the seemingly simple idea, the creation of the notorious taco shell filter took the brand six weeks to create.
The choice of medium also played a crucial role. Snapchat favors short fun interactions and the idea of a taco shell filter fits the platform's positioning perfectly.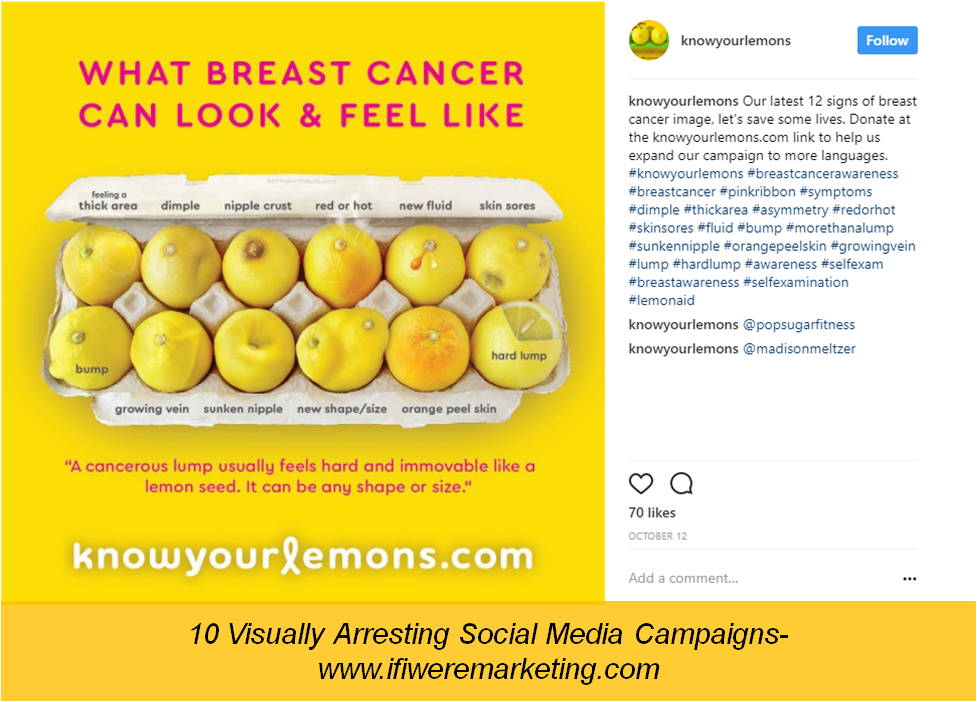 One of the most visually-driven campaigns of all time, the Know Your Lemons social media campaign presented a clear way for women of all ages to recognize the earliest signs of breast cancer. Not only was this campaign socially charged, but it was also visually stunning and creative. The yellow, green and pink colors attract attention, while the metaphoric lemons in an egg carton present a simple but effective way to tell the story.
The inspiration behind the campaign is unknown, but Corrine Beaumont, founder of Worldwide Breast Cancer, aimed to create educational material that would be playful and fun rather than frightening or boring. In that regard, the #KnowYourLemons campaign stands in stark contrast to the usually awkward and bland pictures of models used in previous campaigns of this nature.
AirBnB #WeAccept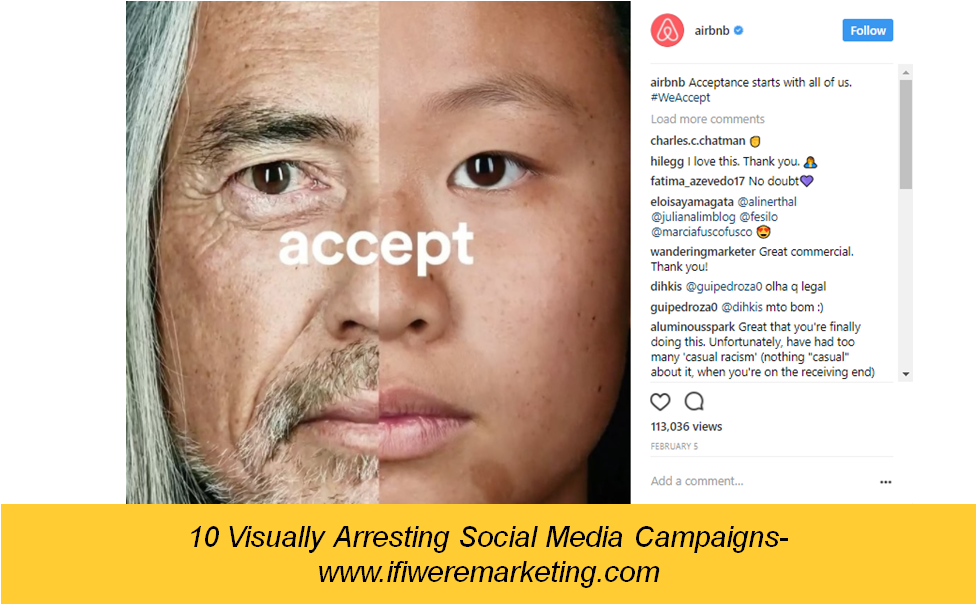 AirBnb launched its #WeAccept campaign with a video during this year's Super Bowl. The video features people from various racial backgrounds reaffirming their stand against racism. The video was beautifully executed and so were the Instagram images, where faces of people were aligned side by side. This design effect can be easily replicated with the help of online graphic design tools like DesignBold.
It is said that AirBnB only needed a single day to shoot the video. Its corresponding Instagram and Twitter campaigns further reinforced AirBnB's brand identity and stance in respect to these critical issues.
RYU #WhatsInYourBag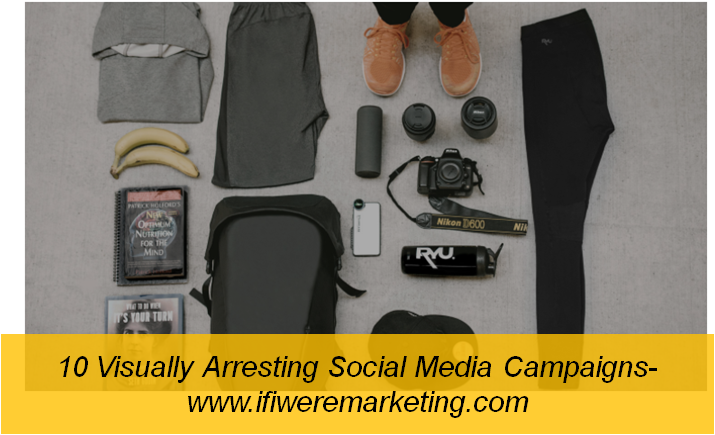 You don't necessarily have to hire a team of designers and videographers to create a visually unique social media campaign. Sometimes, all it takes is asking your followers to submit content. With the #WhatsInYourBag campaign, RYU brand inspired creativity and received some stunning imagery from its audience.
The campaign took the form of a giveaway contest, requiring users to unveil the content of their bags and post photos of the items inside. Contests and giveaways usually draw a lot of attention, while the idea of the contest ensures that the quality of submissions is on par with branded content.
Plan Belgium
Plan Belgium executed a campaign on a complicated subject that ended up being surprisingly well-illustrated. The campaign creators used paper, emotional imagery and bright bold colors to communicate the form of certain body parts.
The campaign shows the power of visual elements in illuminating controversial matters like female genital mutilation. Such initiatives can be instrumental in the debate on politically and religiously charged topics. The video was launched on Vimeo and YouTube.
Denmark WWF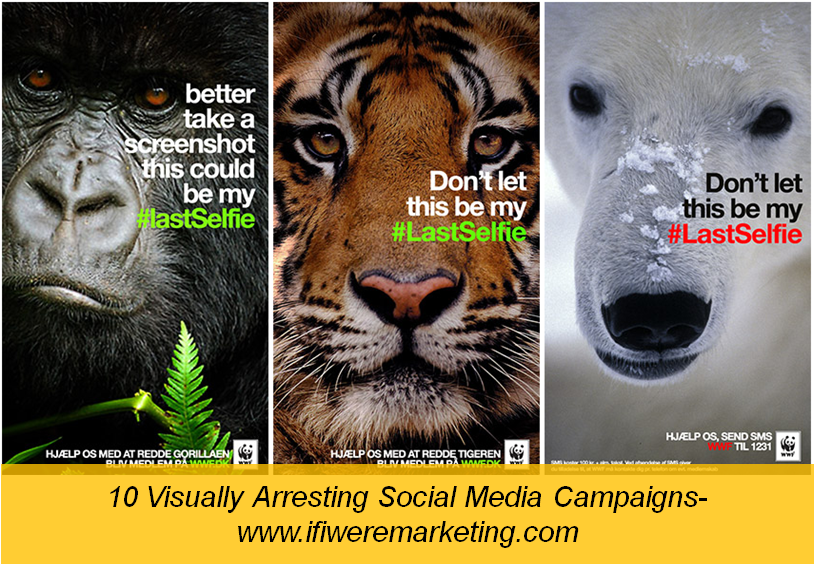 Snapchat isn't a perfect medium for direct push advertising. The short-lived nature of snaps imposes certain restrictions on advertisers and makes it hard to reach a large audience. Yet, Denmark WWF campaign managed to get the message across and start a conversation.
The success of the campaign is mainly due to successfully incorporating the hashtag and selfie notions across images. Beautifully shot photos add to the overall disruptive effect of the campaign, captivating viewers and making them want to help.
Ted Baker #MeetTheBakers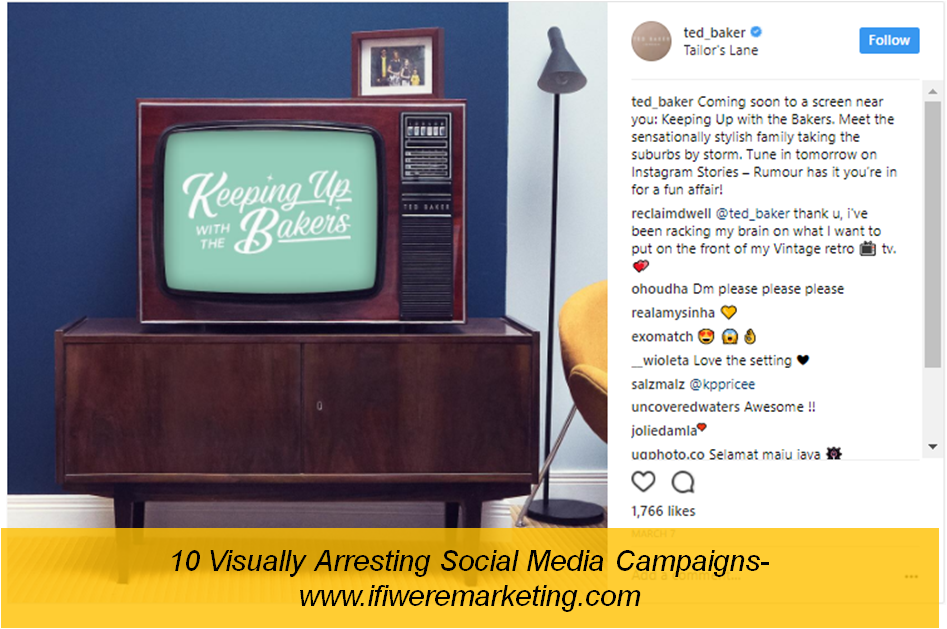 Ted Baker used Instagram stories to reveal the secrets of the Bakers, an American family living in a fictional suburban area. This was a truly global campaign with a website revamp, daily postings on social media and colorful windows decorations.
The brand has put a lot of effort into social media featuring different content for each chosen channel – Snapchat, Instagram or Facebook. Apart from gorgeous and fully shoppable imagery, Ted Baker used various calls-to-action, interactive elements and also incorporated a contest idea into the campaign.
Samsung #UnboxYourPhone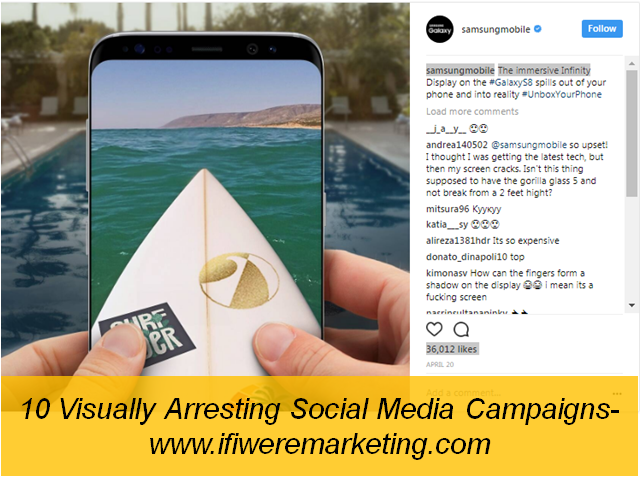 Samsung was the originator of one of the most beautiful campaigns of the year. Fascinated by the famous UK sites, the brand set up gigantic phone frames in the most prominent spots of Britain. You could get a memorable photo in front of a famous sight that truly defied imagination.
In social media, the brand's efforts were limited to short Instagram and Twitter campaigns, yet the campaign gained a great deal of attention because of immersive yet creative nature of the images. In fact, the success of the campaign inspired the brand to make such immersions a central narrative in their social media channels.
Domino's Wedding Registry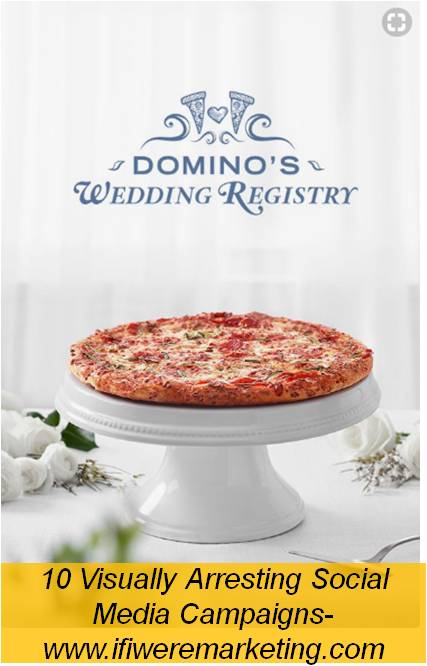 Pizzas and wedding bells aren't the most obvious combination for a social media campaign. Domino's thought otherwise when it launched the Wedding Registry campaign to promote their products to newlyweds and romantic couples. The custom website allows couples to create and customize their registry. The registry is a standard list with some additional pizza gift ideas.
This is a striking example of a mass brand that elevated its brand image. It's also a clever application of the "jobs to be done" theory: Domino recognized the need for a quick bite even at such a special event as the wedding.
The campaign also had Pinterest and Instagram posts that fueled the audience's interest even more.
Trivago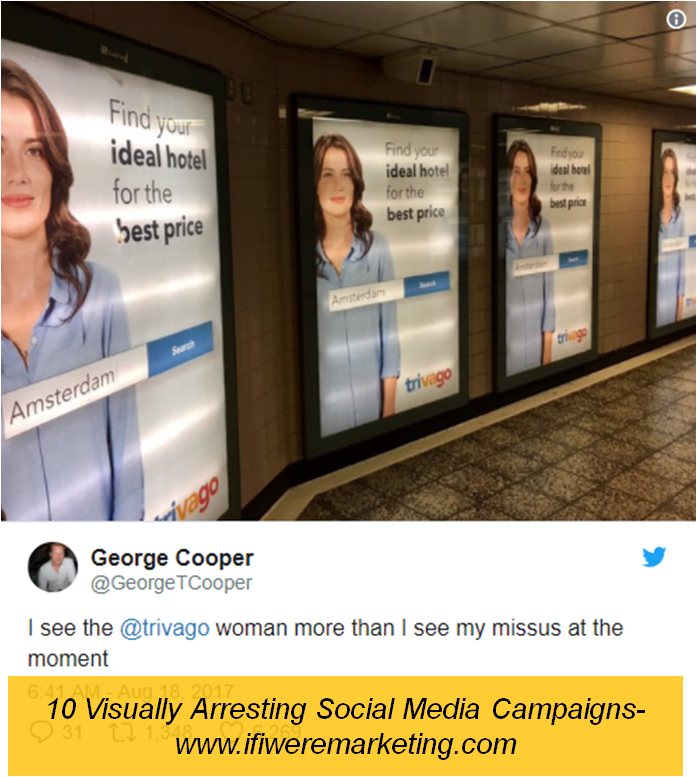 Social media campaigns don't always need to start on social media. Trivago used controversial advertising as a way to start a conversation on Twitter. The ads feature a human sized photo of a woman, placed all over London subway stations.
British consumers used Instagram to share the pictures and criticize the campaign. The campaign raised awareness about the company, inspite of the unfavorable response.
The unique objective of the campaign has also risen to stardom. The campaign generated the highest response rate online of all campaigns run by Trivago to date. This demonstrates that in some cases, even bad publicity can be positive for the bottom line.
Final Word
The key to a successful social media campaign is not only beautiful imagery, but the story and the ability of the campaign to engage users. But with all three elements, as well as lessons from the successful campaigns above, you can start millions of conversations about your brand. Some of this attention will naturally translate into user conversions, which will help your business take off. For best results, conduct an extensive research of your target audience first and tailor your channels and messages accordingly.
Guest Author's Bio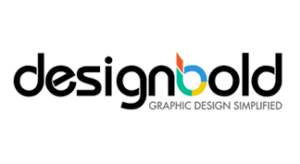 DesignBold Team
DesignBold is an online graphic design tool that aims to redefine the boundaries of design and technology, empowering all users and organizations to share their visions, products and services.
If you enjoyed this roundup, then you would love this 30+ Low Cost, DIY, Guerrilla Marketing ideas webinar and 8 Tips on How to come up with creative ideas. Pronto. You won't want to miss it.