Diwali, the biggest festive season is also the biggest sale time in India. It is less than a month away, starting 19th October, 2017. You want to take advantage of this festive season but are running short on time. Let me help you with quick-to-implement Diwali Marketing Ideas. Anyone can use these local marketing ideas– be it a big brand or a startup, a business or a professional, a restaurant or a mall. You can use them as it is, modify them, mix two or more ideas and create a cocktail idea, whatever works!
(Because we are looking at quick to implement ideas, let's focus on local area marketing instead of pan-India)
Marketing Objectives:
To get people to enter my business location/ retail counter
To spread my discount coupon/code to as many people as I can
If I Were Marketing during Diwali Festive Season,
Quick to Implement Diwali Marketing Ideas:
1. Lit shopping bags on car-
 
Take 2-3 cars (either rent them or your own car) with carriers. Get branded paper bags printed for your business. Place battery operated stick-on LED bulb in each bag. Place these lit bags on top of the carrier. And park the car outside high footfall places. Anyone who passes by, hand out coupons for your business.
2. Lit Shopping Bags with shoppers-
This is a variation to the above idea. In the catchment area of your retail outlet- get a few promoters to walk around carrying these lit shopping bags. Will generate a lot of brand awareness and visibility.
3. Electric Lamps on car-

Buy 2-3 electric lamps, preferably revolving ones like this. Place them atop the car carrier. Park the car outside high footfall places and distribute your discount coupons there. A full fledged tiered lamp is not a usual sight on top of cars. It will attract attention and notice.
4. Diwali Checklist-

Create a Whatsapp image of a Diwali Checklist. It could be either a Diwali shopping checklist or Diwali puja checklist or Diwali house decor/ cleaning checklist. At the bottom, connect it in some way to your business and offer your discount code. Eg. If you are a restaurant, at the bottom of a Diwali Cleaning Checklist, you can write 'After you are done with all this cleaning, take a break and enjoy delicious meals at XYZ restaurant. Upto 40% off…..'
5. Outlined Car With Lit Wishes-

Take a nice car and outline it with LED lights. You can get them for a rate as low as Rs. 500 for 5m, see here. Either outline the full car or parts or just use it to frame your Diwali wishes. Print a big sticker of your logo and outline that too with the light. It will be unmissable. Drive it around high footfall places for visibility and brand awareness. Park it outside high footfall places if you want to hand out coupons.
6. Rangoli Sticker Insert-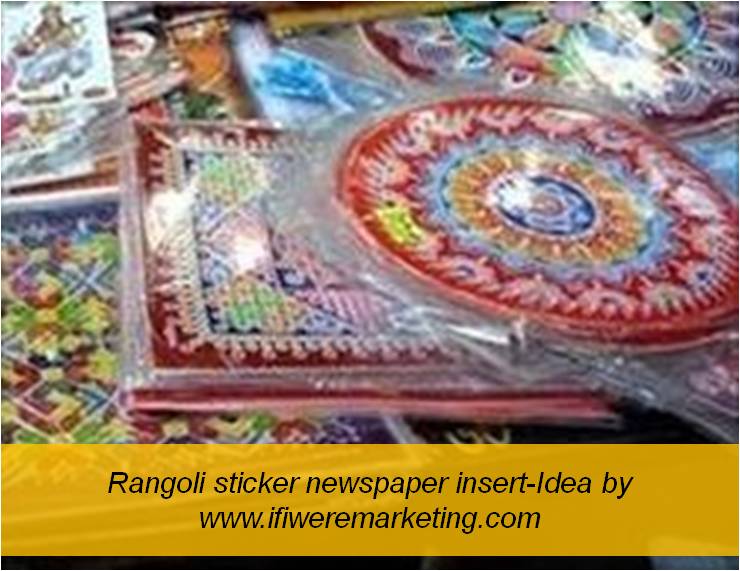 If you have the budget, instead of putting a normal discount leaflet in the newspapers, put a rangoli sticker with the discount coupon stuck on it. Get discount stickers printed and stick them on these rangoli stickers before distribution. People will definitely use it and remember your brand and coupon.
7. Hoverboard coupon distribution-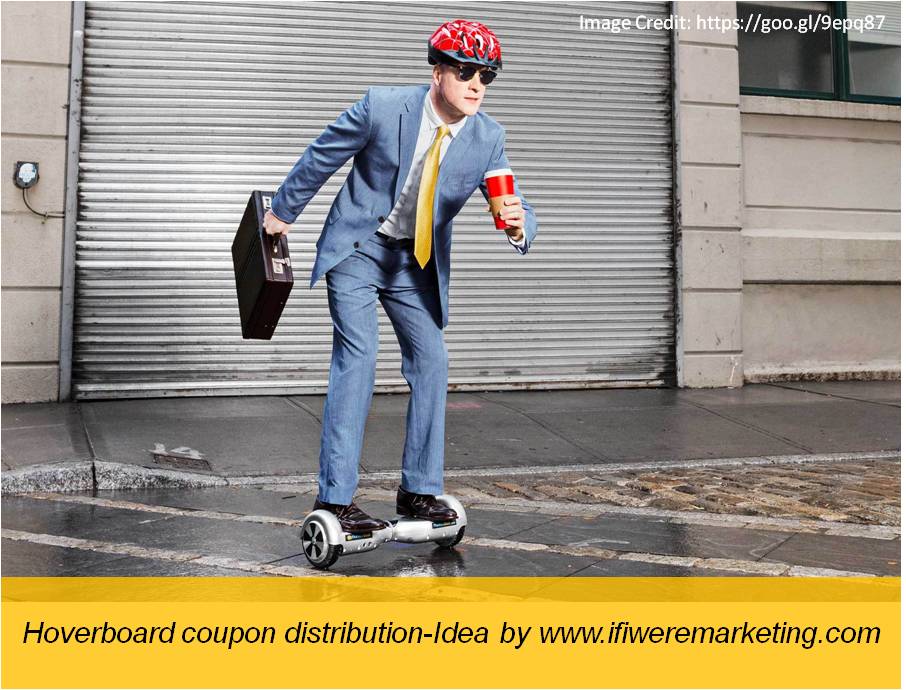 Rent a hoverboard (comes for as low as Rs 950 per day, see here). Hire someone to move around on the hoverboard, wearing your branded clothes and distributing coupons. Use it in catchment area. Use it in high footfall places like Marine Drive in Mumbai (where everyone gathers to burst crackers and celebrate). Not many use hoverboards in India. This will surely attract attention and encourage people to even take the leaflet/coupon.
8. Live music at shop entrance-

For the days leading upto Diwali, hire a guitarist/flautist/drummer to sing/ play at the entrance to your retail premises. You can get permission from local police station for it. They should play festive songs and music. Shops usually don't have this. It will definitely attract attention/ crowd. Once people pause outside, welcome them inside and do the sales.
9. Happy Diwali photo wall discount-

Right outside your retail entrance- put up a very creative 'Happy Diwali' wall. Distribute newspaper inserts in the catchment area inviting people to take selfies against that wall. Everyone who clicks a selfie there gets 50% off. To make it more lucrative, hire a professional photographer for those few days. She can click pictures for people on their phones. Families can share those wishes for Diwali. People always look for unique pictures to send wishes on Whatsapp and Social media.
10. Projector Fireworks-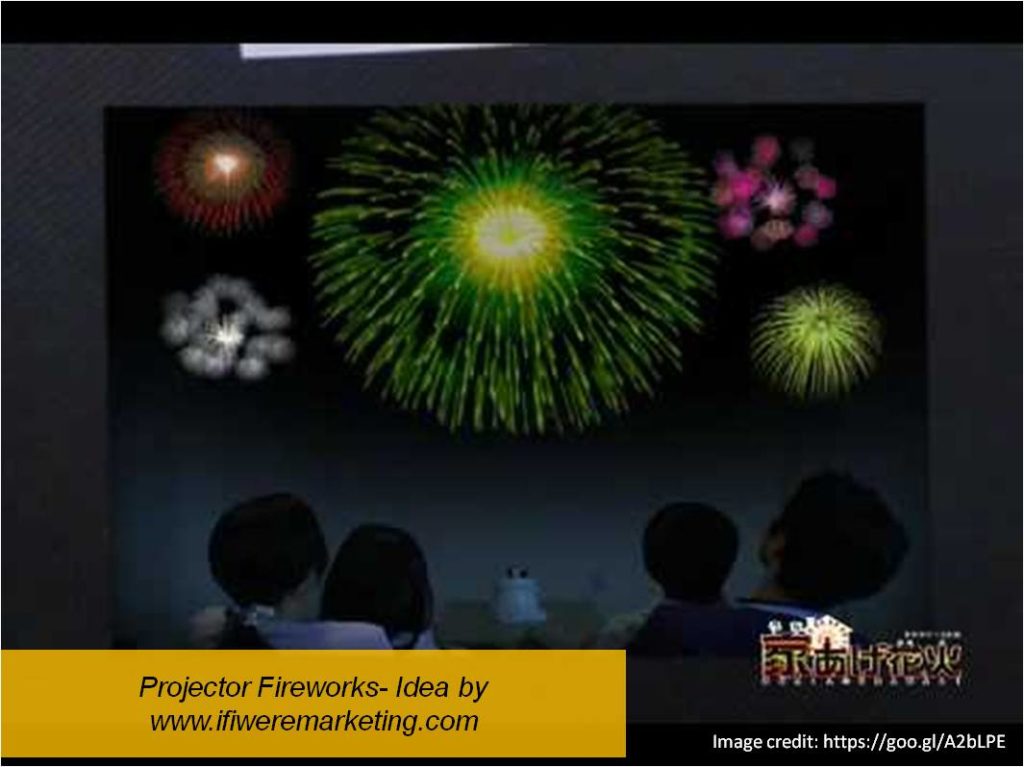 Hire an HD projector (comes for as low as 900 per day, see here) and screen. Place it at shop entrance and keep playing fantastic fireworks from all over the world interspersed with your Diwali wishes. It will attract attention and be inviting, tempt people to step inside.
These were some quick-to-implement, tactical and reasonable Diwali marketing ideas. Give them a try and let us know how they worked. Happy Diwali!!! 🙂