My husband is a big fan of Mountain Dew but every time we go for a movie, especially to a PVR theatre, the fountain drinks machine shows a slot for Mountain Dew but never has it in stock. Even at other points of purchase, a Mountain Dew is not as widely and easily available as all the other colas.
This prompted me to find out what the brand was upto. They are active on TV via their Hrithik Roshan commercials but on the ground and at the point of sale– not easily found and seen. The brand should have been heavy on experiential marketing, given its brand personality, message and tonality.
Secondary research revealed this brand background:
Rising above fear, Taking up challenges and Emerging victorious. This is what the all new Mountain Dew campaign Naam Bante Hain Risk Se brings alive. Speaking on the campaign, Ruchira Jaitly, Sr. Director, Marketing (Social Beverages), PepsiCo India said, "Mountain Dew is the instigator that helps you break out the ordinary.
The campaign 'NaamBanteHai Risk Se' will be supported by a 360-degree approach including outdoor & on-ground activations and an exciting digital engagement programme. The campaign encourages consumers to overcome their inner fears of taking risks and try something new, explore new boundaries to emerge victorious. – Mediainfoline.com
Daredevilry has been the brand philosophy from the time it entered India in 2003. The proposition seems to have worked because it prompted Coca Cola's Thums Up to change its USP to daredevilry from 2012 till last year 2014 through its 'Aaj Kuch Toofani Karte Hain' campaigns.
Thums Up moves away from its individualistic, masculine positioning to be the flag bearer of daredevilry, a la Mountain Dew. In a move to contemporise Thums Up, Coca Cola has pitted its largest Indian brand against one with a 7 per cent market share but the fastest growing in the fizzy drinks category. Anand Halve, co-founder of chlorophyll brand and communications consultancy……. says the new Thums Up ad presents an image very similar to that of Mountain Dew. Depicting youngsters drinking out of the bottle and then performing stunts is just another way of asking us to overcome our fears, he says. "Imitation can be the best form of flattery and when the leader does so, it can be telling," – Business Standard (2012)
Both brands are targeting the youth, both are saying it in the same manner. So how to ensure that the TG retains a preference for the original daredevil Mountain Dew?
If I were marketing @ Mountain Dew…
My TG- 20-30 yrs SEC A- B youth with a skew towards boys.
My Marketing Objective- Create a striking differentiator for Mountain Dew as the drink for risk takers using the media defined by the brand team- on ground, digital and outdoor.
Activation Ideas:
1. PVR Bike Ride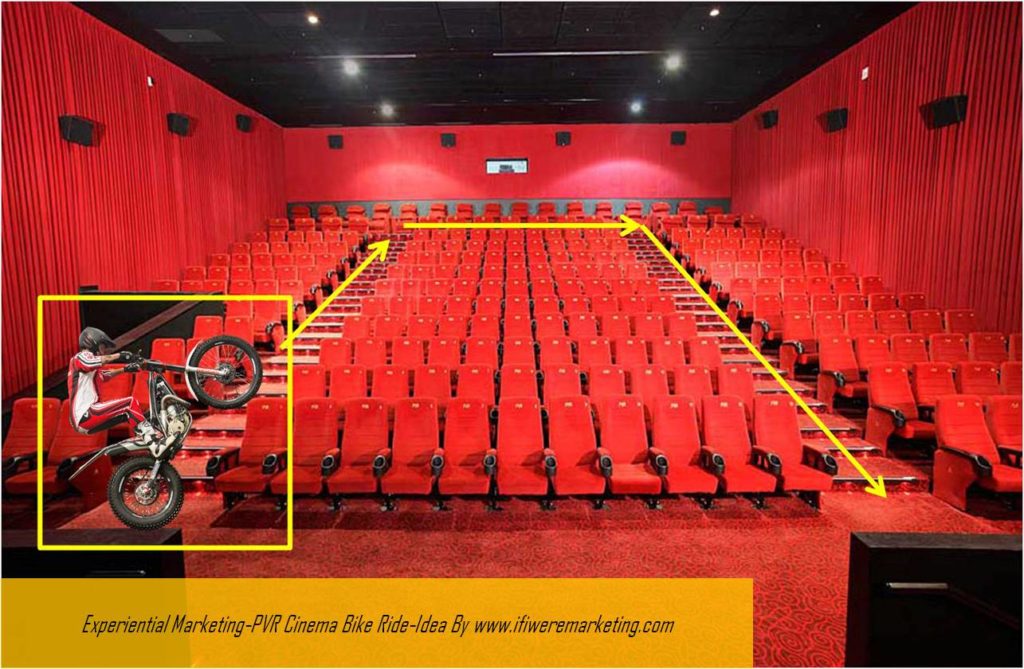 In select PVR theatres at the start of the movie– let a stunt biker ride up and down the aisles with the Mountain Dew branded flag fluttering behind and the brand commercial playing on the screen thereafter. It will be a completely unique activity with the added benefit of increasing Mountain Dew sale during intermission (assuming the supply is there).
2. Zorbing in a Mountain Dew Bottle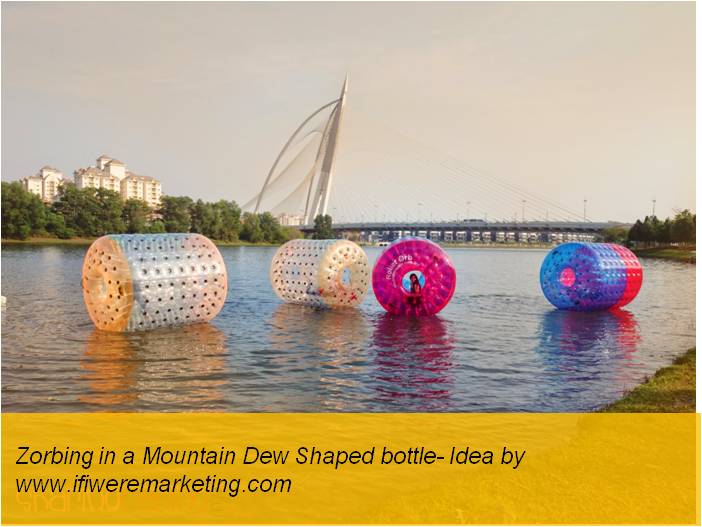 Fabricate special water zorbing containers in the shape of the Mountain Dew bottle with the branding such that from afar it looks like one is rolling in the Dew bottle. It will be unforgettable and very relevant.
3. Beach bike race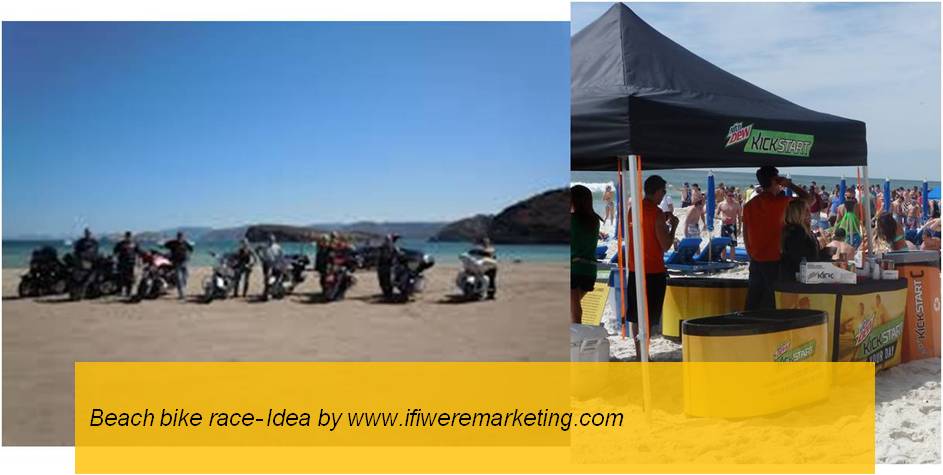 Assuming you will get permission, conduct a motorcycle race at the beach (Juhu Beach in Mumbai or any beach in Goa or Chennai). Riding a bike on a sandy beach is difficult. Hence, conducting a race of the bikes would be an adventure activity which could see a lot of participation. This could be an annual property like the Standard Chartered Mumbai Marathon. On the day of the race, beach tents and oversized Mountain Dew bottles and Cans can be spread across the race route for maximum effect.
4.Dahi Handi Type Mountain Dew Phod
Outside colleges, tie a rope high up strung with Mountain Dew Bottles and do a Janmashtami style human pyramid to pluck the Mountain Dew from high above. Do it at a time not around Janmashtami. Amplify it with radio and social media. It will surely spread on the social media with college students sharing videos and photos of it.
5. Mall Trampoline Jump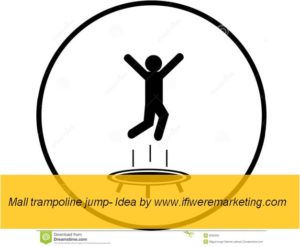 Conduct a 'Highest Jump on Trampoline' contest at the most popular mall in select metros with appropriate branding and announcements.
Outdoor Ideas: 
6. Della Adventure Camp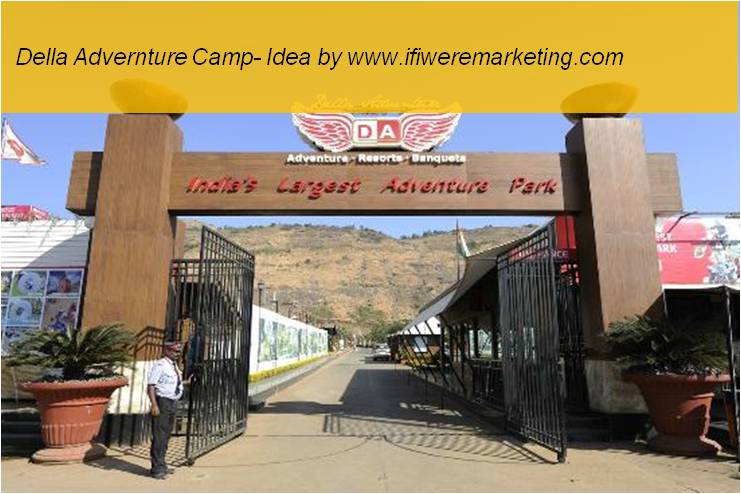 At the Della Adventure camp in Lonavala, Maharashtra, brand the different rides because each is an adventure ride and hence gels well with the brand image and message. The TG frequenting it is also apt for the brand.
7. Bike Ferris Wheel Type installation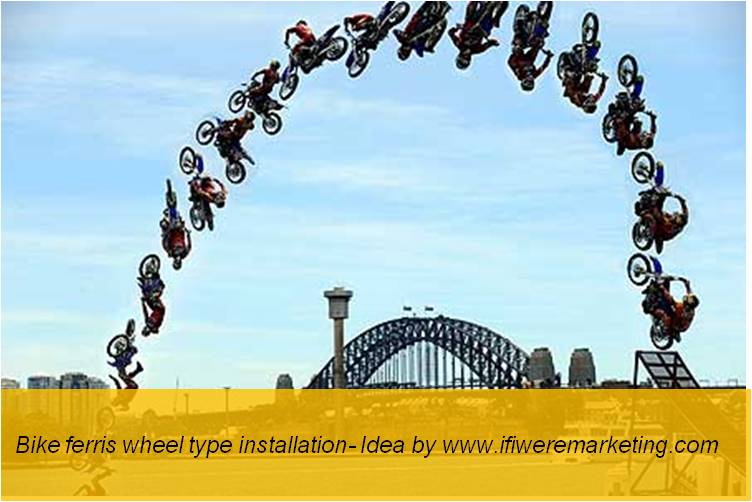 At a popular city roundabout or on the beach or high footfall place, install a 'ferris wheel type installation of bikes' in different positions- let it be well lit to catch the attention even at night time. It will be very eye catching and memorable.
8. Jeep on hoarding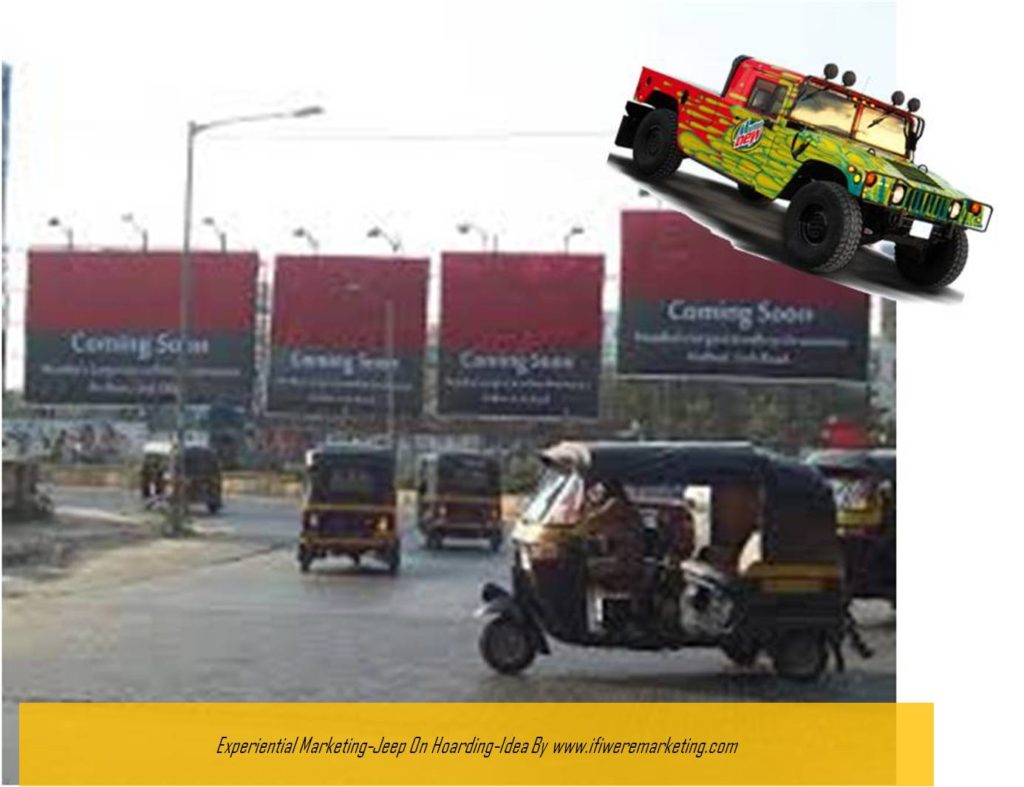 Take a prominent hoarding in select metros and suspend an actual jeep or SUV over the hoarding- hanging precariously. This will bring the TVC story onto outdoors. It will be eye catching and effective.
9. Bus stop loud speaker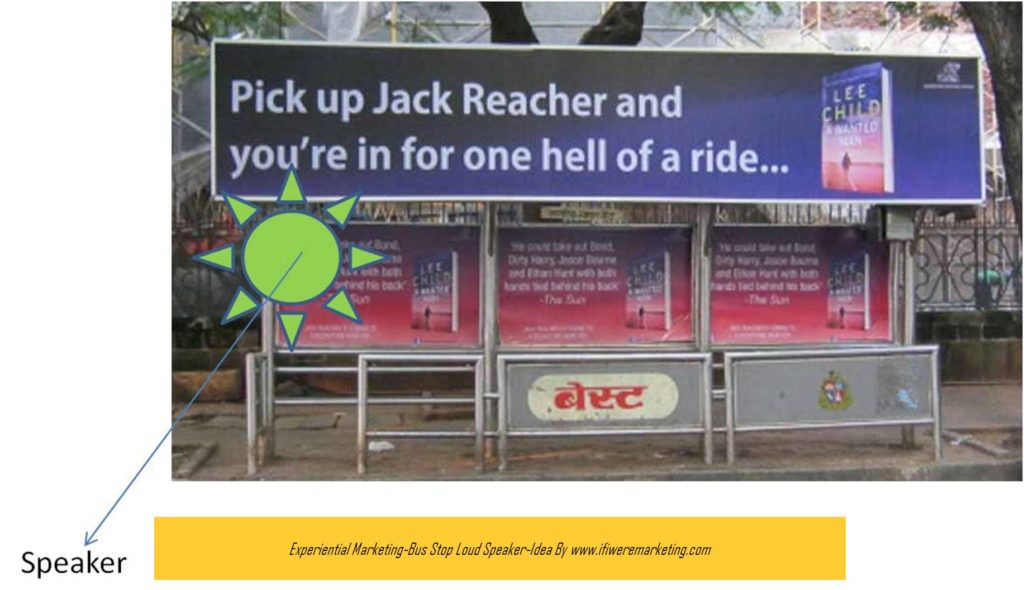 Take bus stops outside colleges. Install a speaker which keeps playing adventure sports sounds. E.g.- sound of a screeching bike/ revving car/ skateboarding, hiking etc easily recognizable sounds interspersed with the brand message. It will be a unique outdoor communication.
Digital Ideas:
10. Wildlife Photography/ camping trip to Gir/ Corbett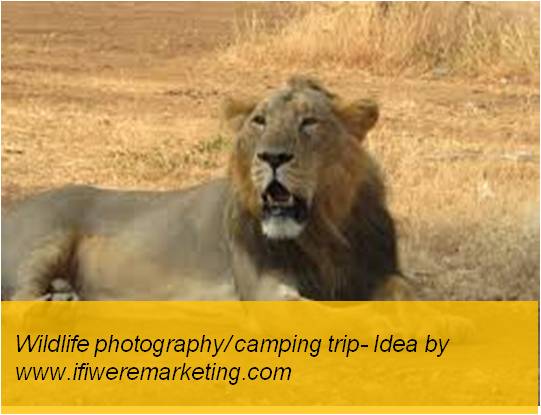 Conduct a Facebook and Twitter contest. A special code on each Mountain Dew bottle is the entry pass into the contest. Based on other contest parameters, a select number of consumers get to go for a fully paid wildlife photography camp to Gir forest or Corbett.
11. Chadar Trek In the Himalayas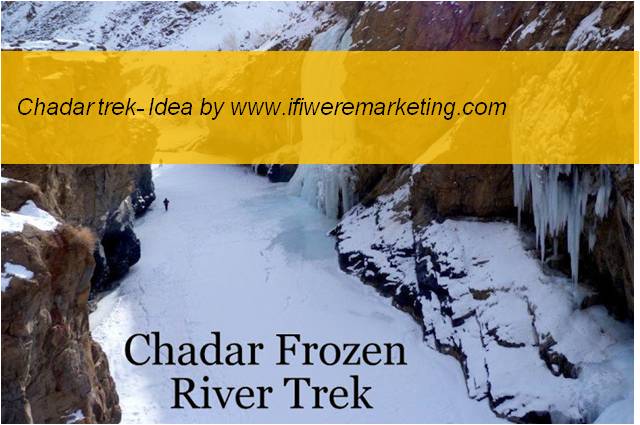 The most difficult trek after Everest in India is the Chadar Trek. For adventure junkies and Mountain Dew TG, give this trek as a very lucrative promotion. 'Enter the code from the Mountain Dew bottle. Answer some questions and get a chance to go for the Chadar trek'. 
12. Internet Ads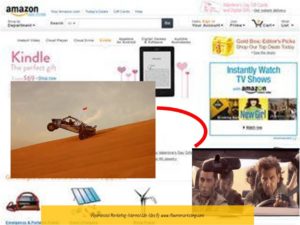 On electronics pages of e-commerce sites and other relevant websites, create an innovative ad. Mouse rollover on the ad would cause the jeep from the TVC to jump out and race across the screen. This could create a lasting impression.
These are some daring ideas which I hope would create a distinct image of Mountain Dew. Which of these do you think would work best for the brand?