This 3 part series on low cost marketing ideas is written specifically for you, if you are facing one of the following:
Budget Constraints- You are a startup, are bootstrapped or you are an SME and have very limited funds or you are a big firm but most of your funds are currently blocked elsewhere and hence you are on the lookout for low cost marketing ideas
Human Resource Constraints- You are either a one person army or you have a very tight team of multi-taskers and you cannot assign someone to focus solely on marketing.
Need Fresh Perspective- Your pockets are deep and your team size is satisfactory but you feel like your marketing is stuck in a rut and could do with a fresh perspective, fresh thinking.
So I welcome you to continue reading if you said a yes to either one of the three points. This series is bound to help you get atleast one idea worth trying for your specific situation.
Heads up- this is a fairly long read. If you are more of an audio-visual person, then you can get these ideas in the video of my Uppercase Conference presentation here. (You may have to excuse the technical issues in the initial 7 minutes but i promise you, you will not regret sticking around)
But before we get into the DIY, guerrilla, low cost marketing ideas, let us get the basics out of the way. Just consider the next few points as a checklist of marketing essentials. You need to get them in place before you can dive into creative marketing efforts.
Foundation for Any Marketing Activities
1. Brand Identity-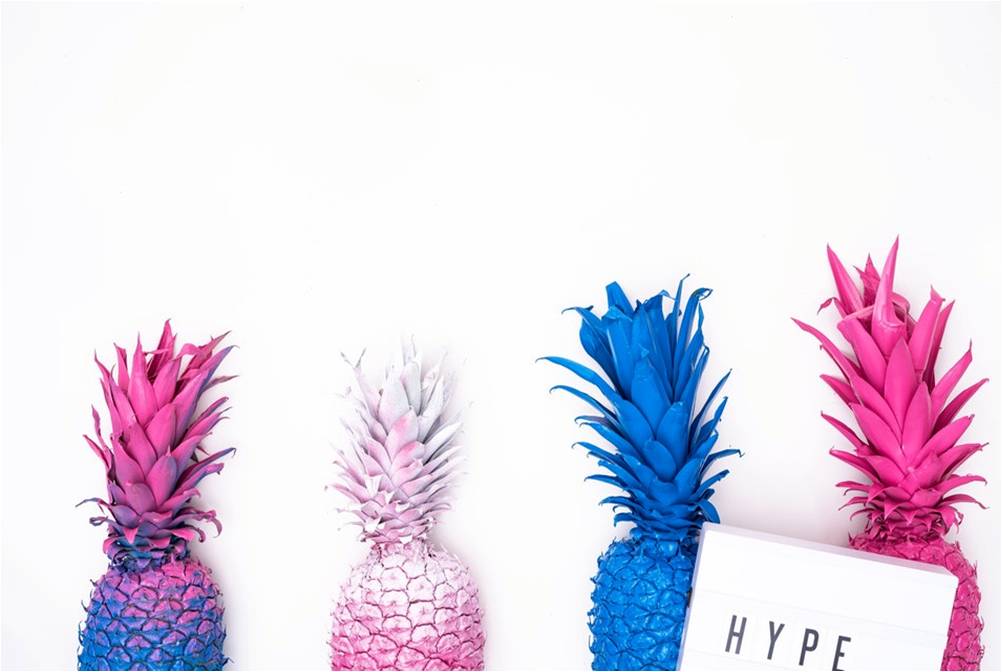 At the bare minimum, you need to have a distinct, simple yet memorable logo and brand name in place. This can be supplemented with other brand identity elements like brand color, brand personality, voice and tone of communication (e.g. whether you are a humorous, friendly brand or the trusted expert who is formal and serious or somewhere in between).
2. Well defined Unique Selling Proposition (USP)-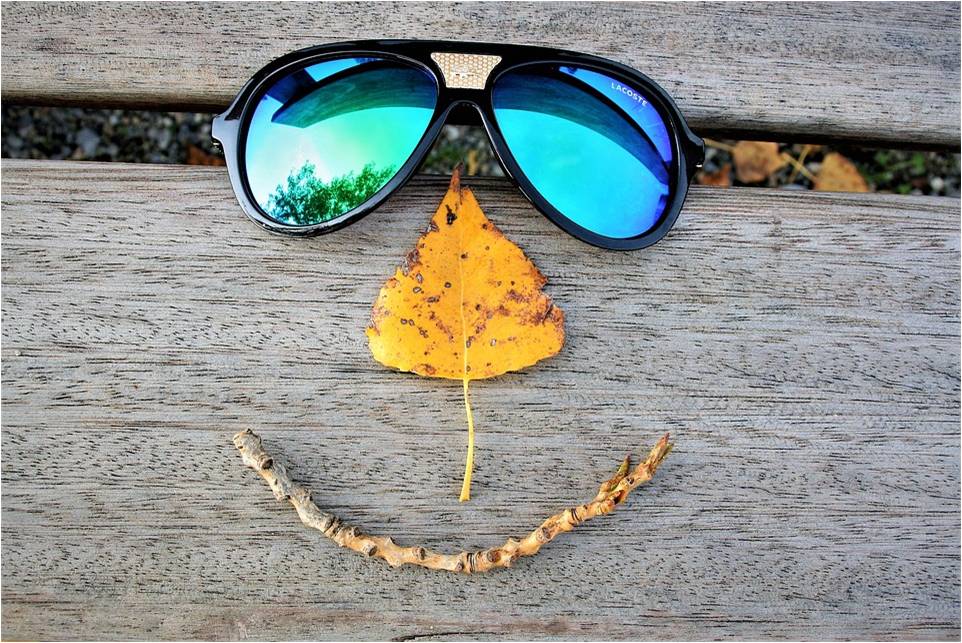 Identify what is the one thing that sets you apart from the rest of the competition. It has to be unique but valuable enough to convince people to buy from you. It should not be an inconsequential point of difference.
Pro tip- One of my personal favorites for identifying the USP is the Positioning Roulette. It is a deck of 26 different positioning statements. It is my go-to tool before starting positioning work. (I have no connection with them. I am just a happy active customer).
3. Marketing Objective-
Define what you want your marketing to achieve. Whether it is to generate leads/ inquiries or generate sales or simply garner brand awareness, unless you know what you are working towards, you will not be able to create effective creative strategies.
4. Customers-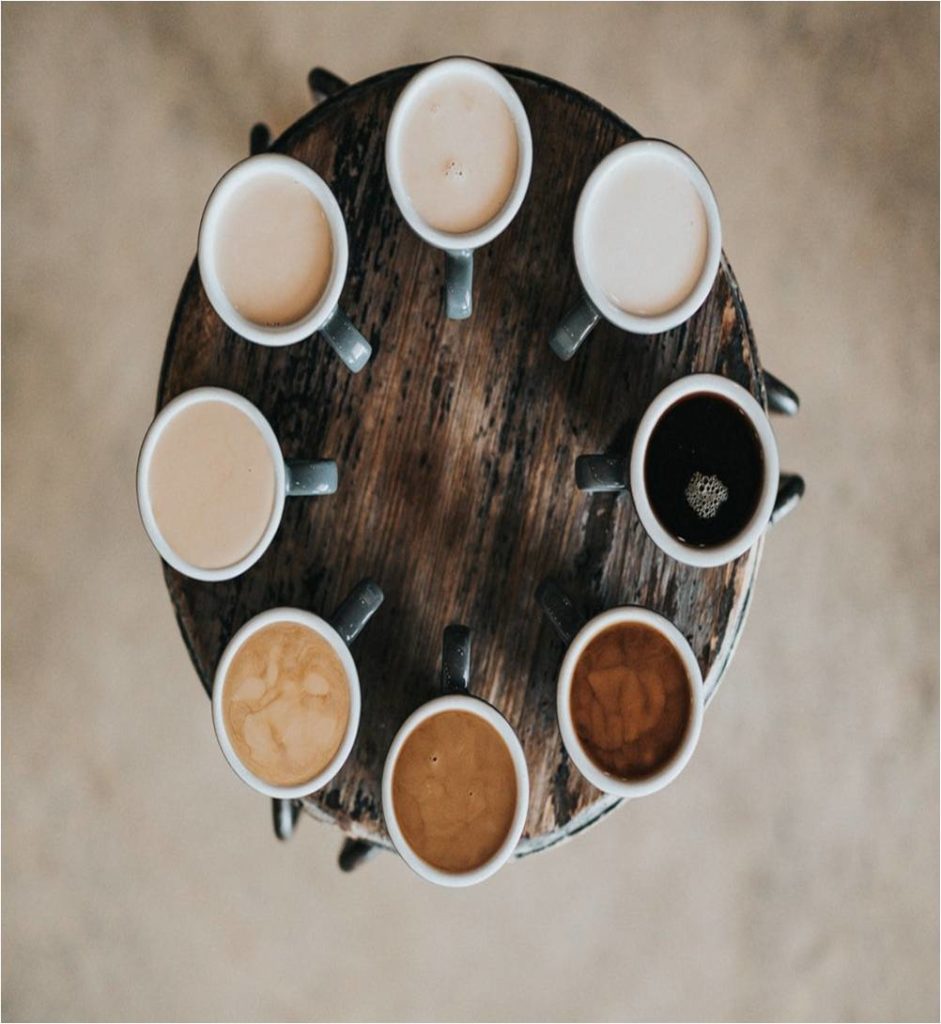 Again, who do you want to sell to or who is likely to need your product or services? Only if you know this, can you plan what media to use, where to find them, what will attract their attention, etc.
5. Competitors-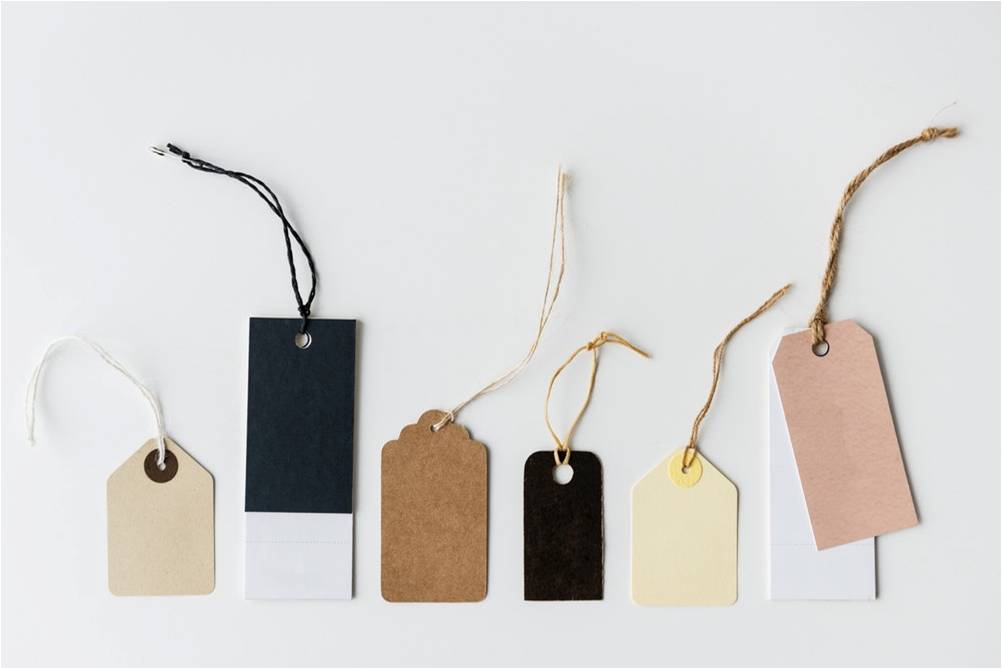 You need to know your competitors, not just to beware of their offers, communications, moves but also to understand how you are different from them and thus to claim your exclusive spot in the crowded bazaar.
6. Website-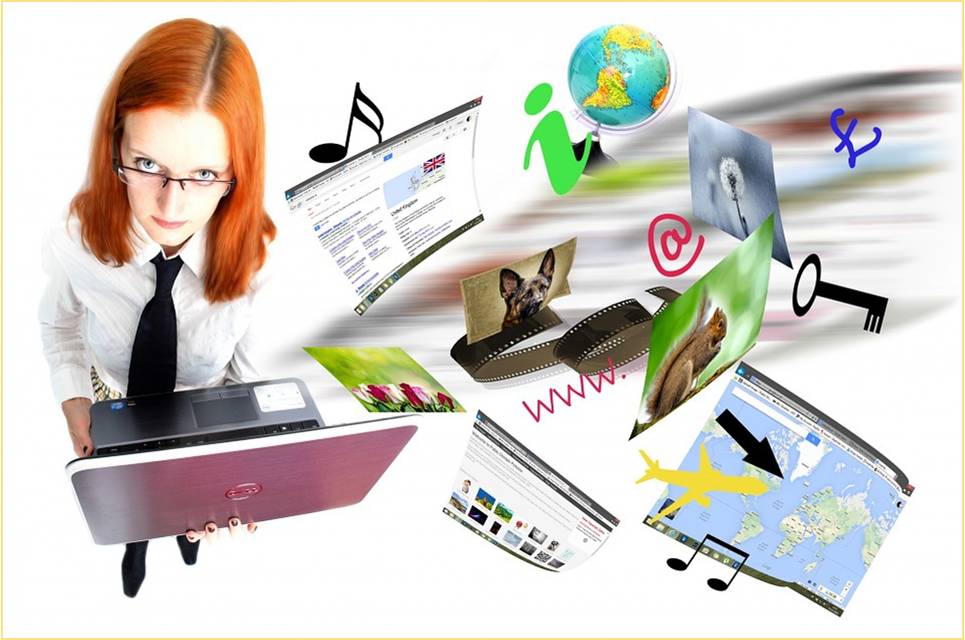 This is a no brainer. In today's times, a website is as basic and as important as your name. It need not be a swirly, twirly, technical wonder. It can be as simple as a single page website but one that covers all your basic information. Think of it as a mix of your product brochure + business card.
7. Active blog-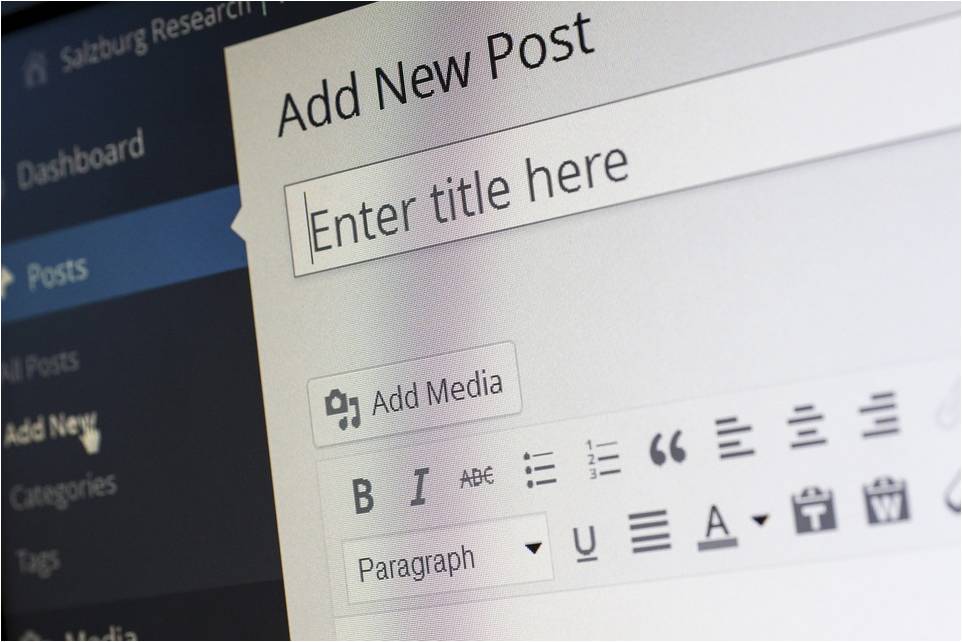 Content is king. This cannot be overemphasized. Unless you write and express your thoughts, your expertise and extensive product knowledge will be hidden. If your blog and website show useful, relevant information, besides basic product information; people will start trusting you as an authority in your field even before meeting you face to face. That is a big achievement!
8. Social Media Presence-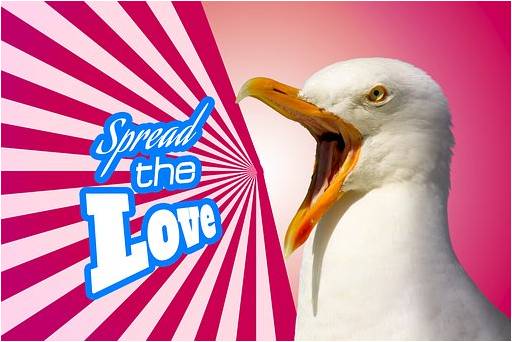 Be present in only one or two social channels to begin with. Do not spread yourself too thin by trying to maintain accounts in each available social channel. Your engagement and followers will increase only if you share useful, curated information. You need to have time to gather this intel. Hence, focus on building your base in one two channels first. Then explore others one by one.
Do low cost, unusual, guerrilla marketing ideas work?
Yes! They sure do!
Cases in point from my portfolio of work
A 360 Degrees unusual marketing campaign
140 washing machines sold
13000 leads
In 1 month
Whatsapp outreach to premium bathroom dealers
10% inquiries
Sales worth Rs. 1,00,000
Total spend Rs. 0
Shop floor guerrilla activity
21 microwaves sold
Total spend Rs. 2,200
In 2 days
Outdoor guerrilla activation for an exchange offer
2700 leads
20% increase in walk-ins
Sales directly attributed- Rs. 2,70,000
In 12 days
Average ROI on these 4 marketing campaigns?
Minimum 50%!!
So now that you are convinced, shall we plunge into the creative yet affordable, low cost marketing ideas for your brand and business?
Alright then…
So there are 3 types of marketing ideas based on the objective they help to achieve:
Type 1 – Brand Awareness generating ideas i.e. ideas that will help you tell the world 'Hi there, this is me!'
Type 2- Lead generation ideas i.e. ideas that say 'Now that you know me, may I get your contact details please?'
Type 3- Sales garnering ideas i.e. 'Remember, we met and exchanged numbers? I got something for you'
In this post, we will cover Type 1 Marketing Ideas.
(Part 1) 12 low cost Brand Awareness Generating Ideas
1. MBA Contest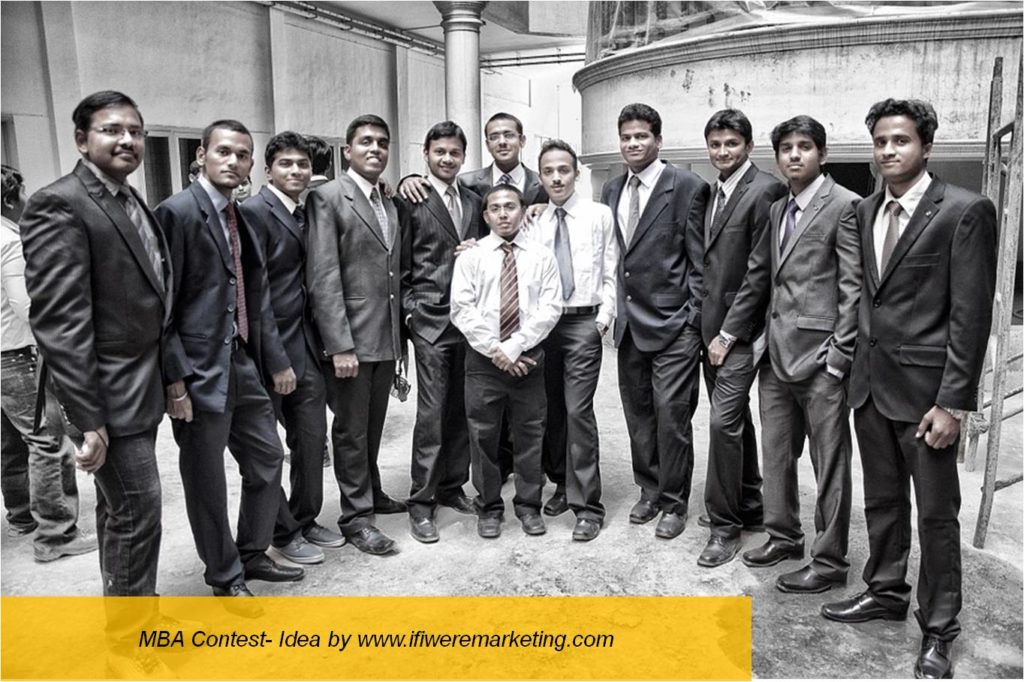 Hold a viral video contest for MBA first year students. Teams of 4 students have to create viral videos regarding the features of your product or service. The team whose video gets the maximum views gets a chance to do a winter/summer project with you. MBA students and colleges are always looking for live projects to work on. The brand can get a lot of virality with this at no cost. Thus, a win-win situation!
2. Branded Cape instead of T-shirt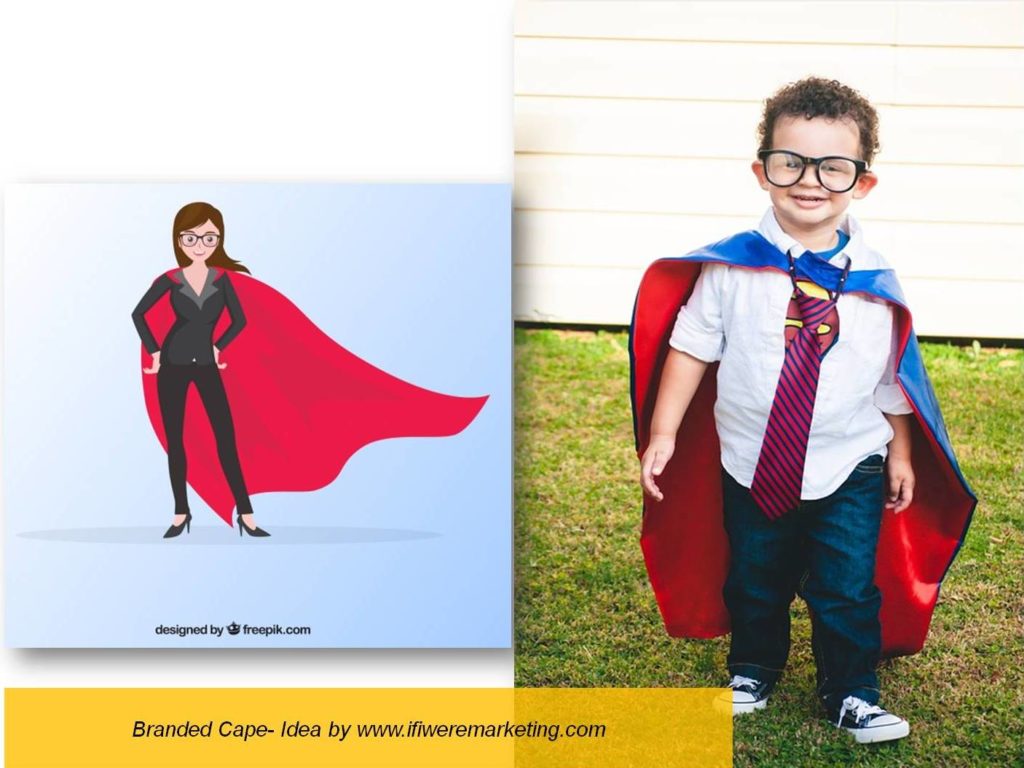 Instead of wearing branded T-shirts, you and others in your company should wear branded capes. It will attract attention for sure. Also, cost wise it will be almost the same as a company T-shirt. If you are a solopreneur, ask a few of your friends to wear such capes when you'll hang out. Don't be shy about it- if Harry Potter and Superman can wear them, you definitely can.
3. Branded Coffee Cups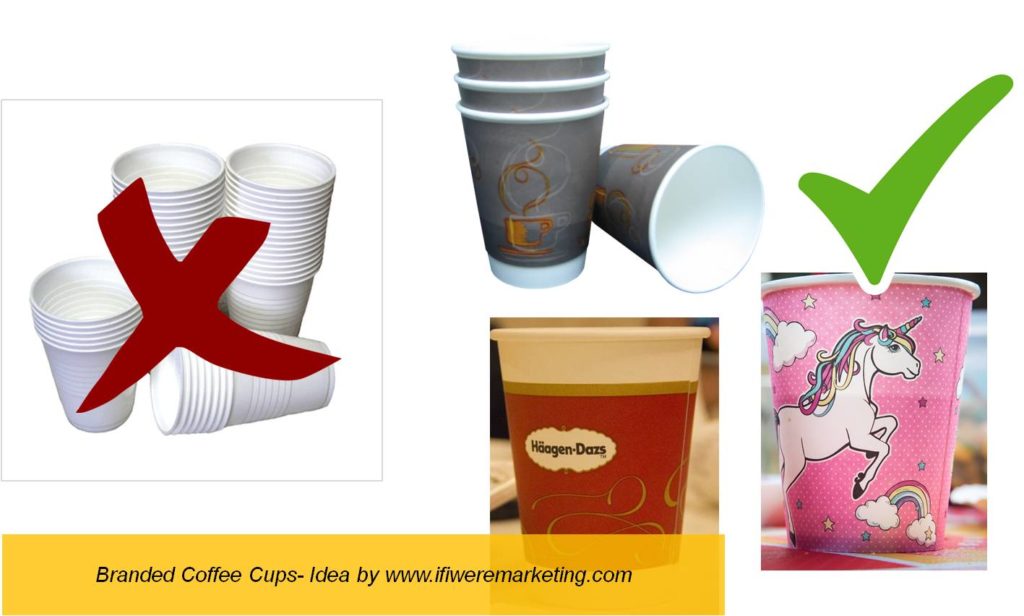 Print branded disposable coffee cups and give them at trade shows or exhibitions. You could offer to be the sponsor for coffee cups at these events too. Usually disposable cups are plain white. Yours will stand out. If you don't have the budget to be an event sponsor, then give them to neighborhood retailers to use. They could be a replacement to your business card. Ensure your website is clearly mentioned.
4. Co-branded Business Cards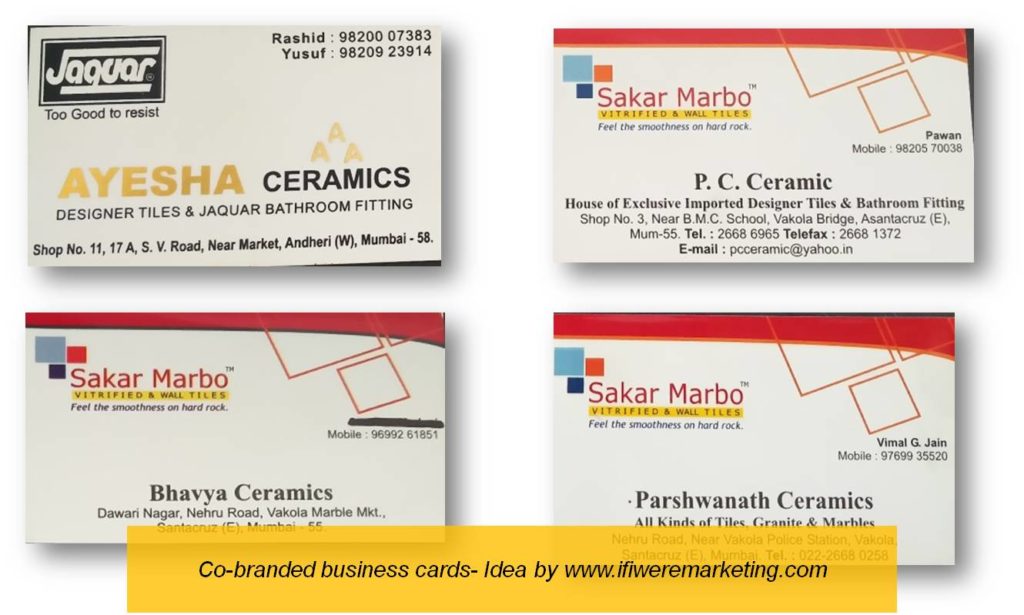 Offer to print visiting cards for your customers, especially if you are a B2B player. You could print 100-200 cobranded visiting cards. Good publicity for you and your customer is also happy.
5. Business Card With Mirror "Awaiting A Call From…."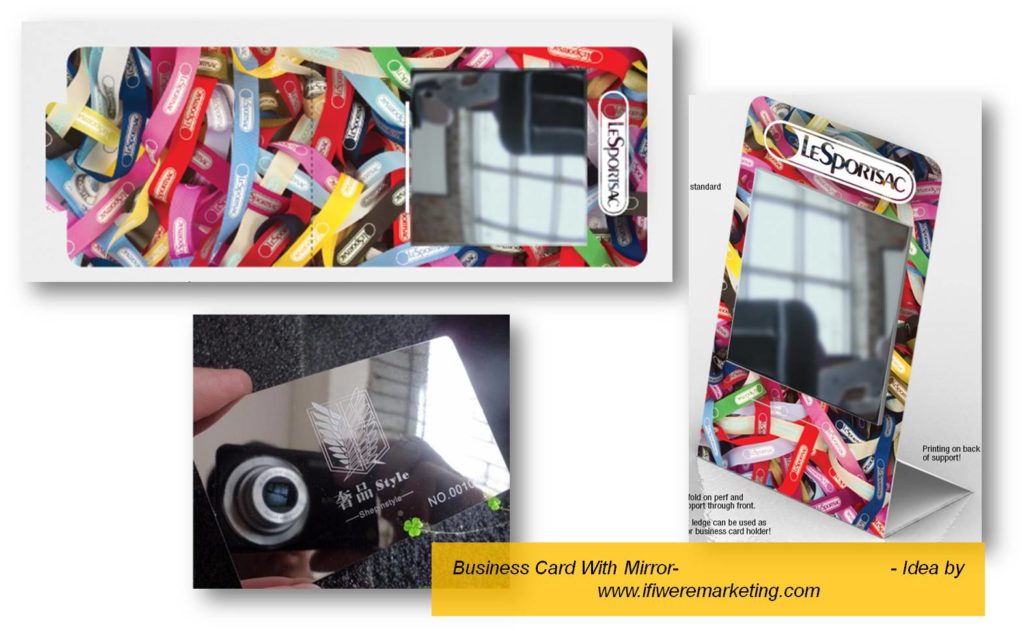 Print a unique business card with a mirror on one side and business details on the other. Below the mirror, add the line 'Awaiting for a call from…….' (person would see his or her face) . Such a card can serve dual purpose- firstly it can ensure that people don't throw away your business card. Secondly it will give a call-to-action on the card itself.
6. Journalist's Quotes Compilation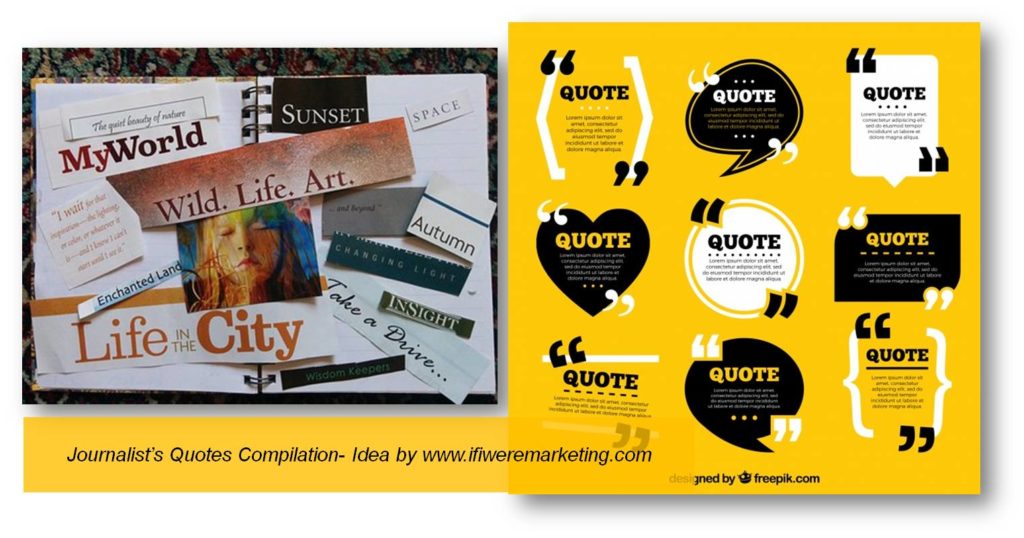 To get PR coverage, you need to speak with local journalists. But they don't talk to everyone. Collect a few good quotes or paragraphs from that journalist's earlier work, make it an image and share with journalist on social media or email. He/she will appreciate a snapshot of his/her work. Helps build a rapport with her.
7. Industry Blog With Journalist As Guest Editor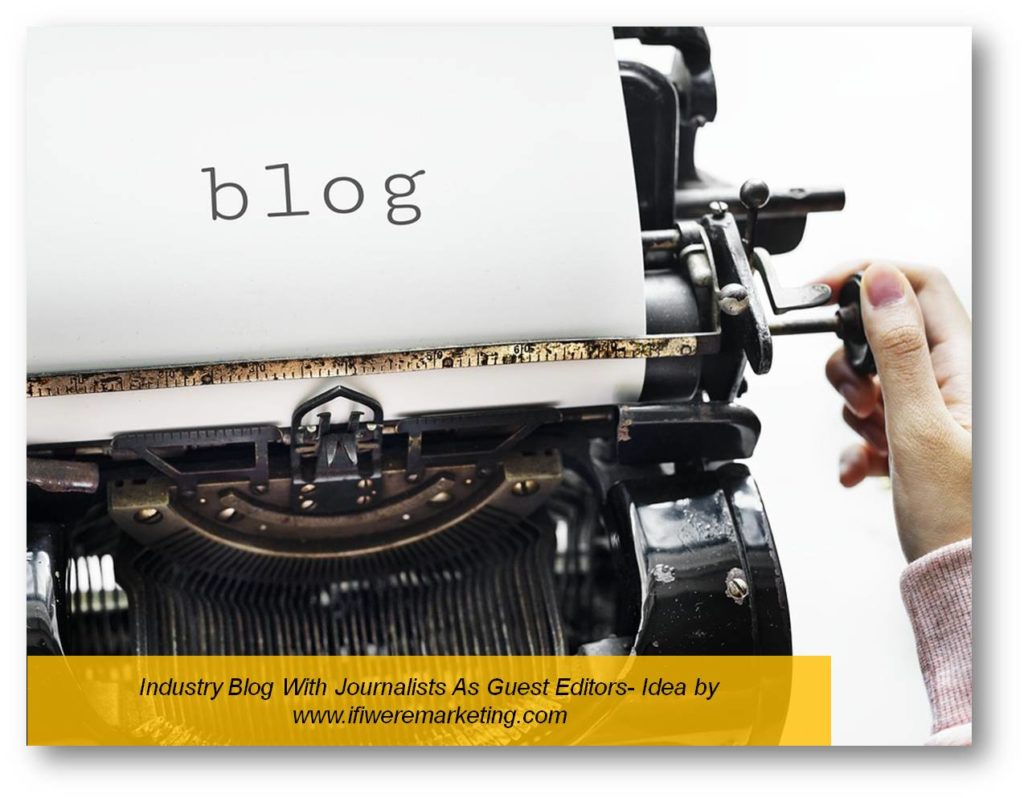 Start a blog on your industry and invite journalists covering your industry to be guest editors. For a journalist, the next career step is editorial. So they are likely to agree to this. And it will get you more publicity and build much valued relations with press.
8. Unusual Insert/ Leaflet Distribution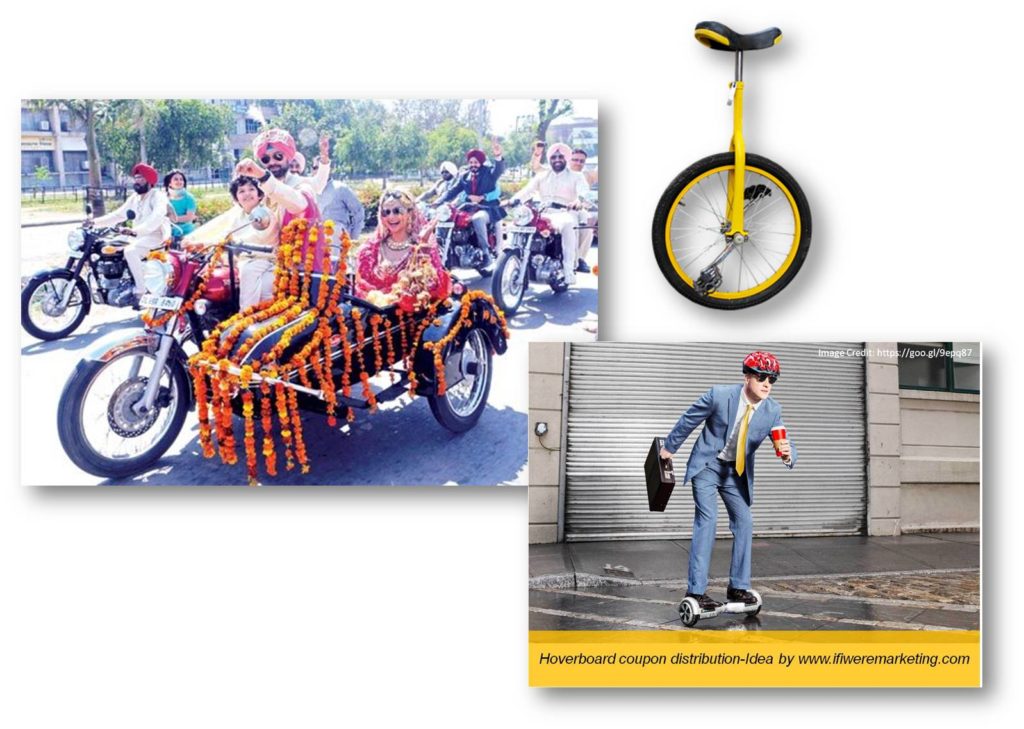 Distributing leaflets using promoters or newspapers is ancient and always gets ignored. Try some unusual mode instead like perhaps distributing from a scooter with side car or from atop a unicycle or while skating on a hoverboard (Rs. 600 per day rent). It is easily affordable.
9. Musician Outside Shop/Office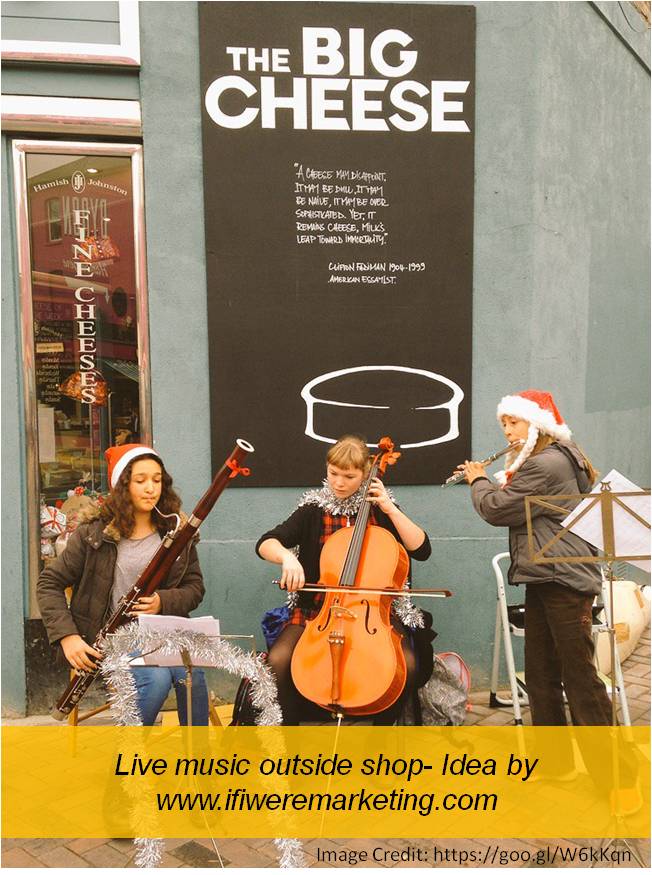 Play live music outside your premises (be it a retail presence or restaurant or perhaps street facing office premises). Even a single musician is enough to attract attention and increase footfalls. This would work especially well during festive time. (Check out other Diwali Marketing Ideas here)
10. Festive Selfie Point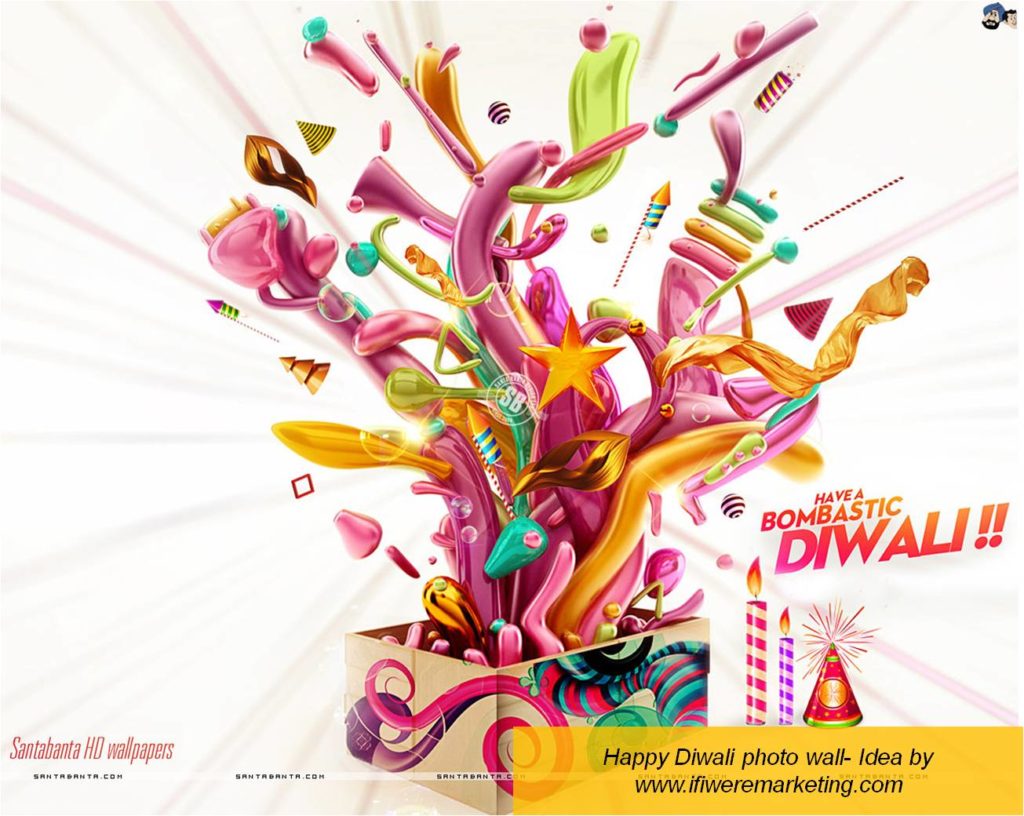 Set up an attractive, eye catching backdrop wishing 'Happy Festival' outside your premises. Distribute leaflets in catchment area inviting people to come and click a selfie with that wishing backdrop. Every person who clicks a selfie against the backdrop gets a special discount. Two fold benefits- this will spread the brand name across social networks of every participant and lead generation. (Check out other Diwali Marketing Ideas here)
11. Oversized Postcards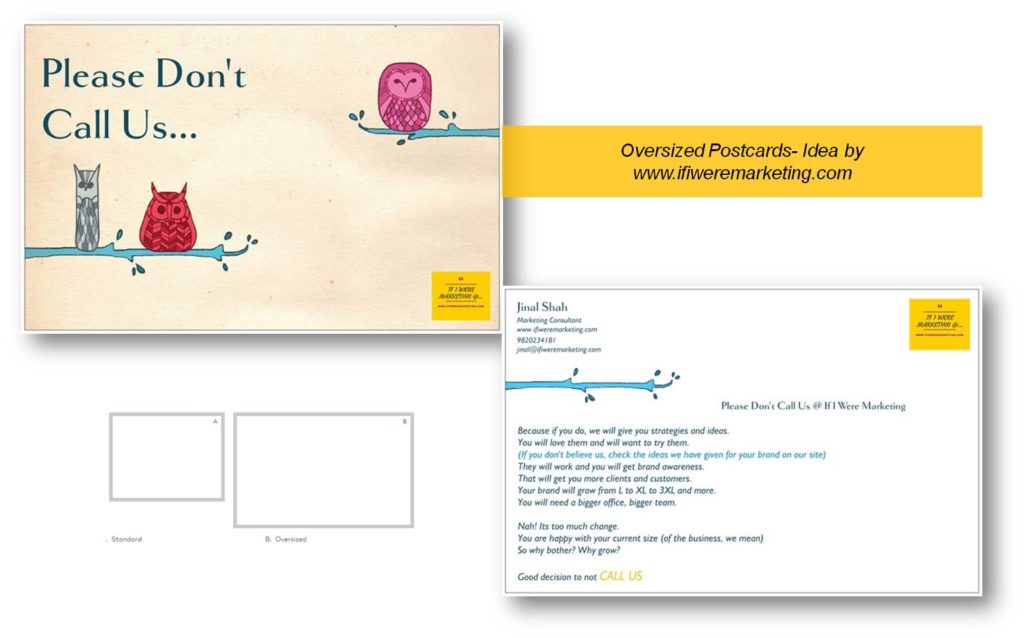 In the age of email, postcards are forgotten. We hardly ever receive any snail mail. So currently, it is an uncluttered space that is waiting to be explored. Use the government postal service and send oversized postcards to prospects (especially B2B). Very cost effective direct mailer.
12. Toilet Paper As Direct Mailer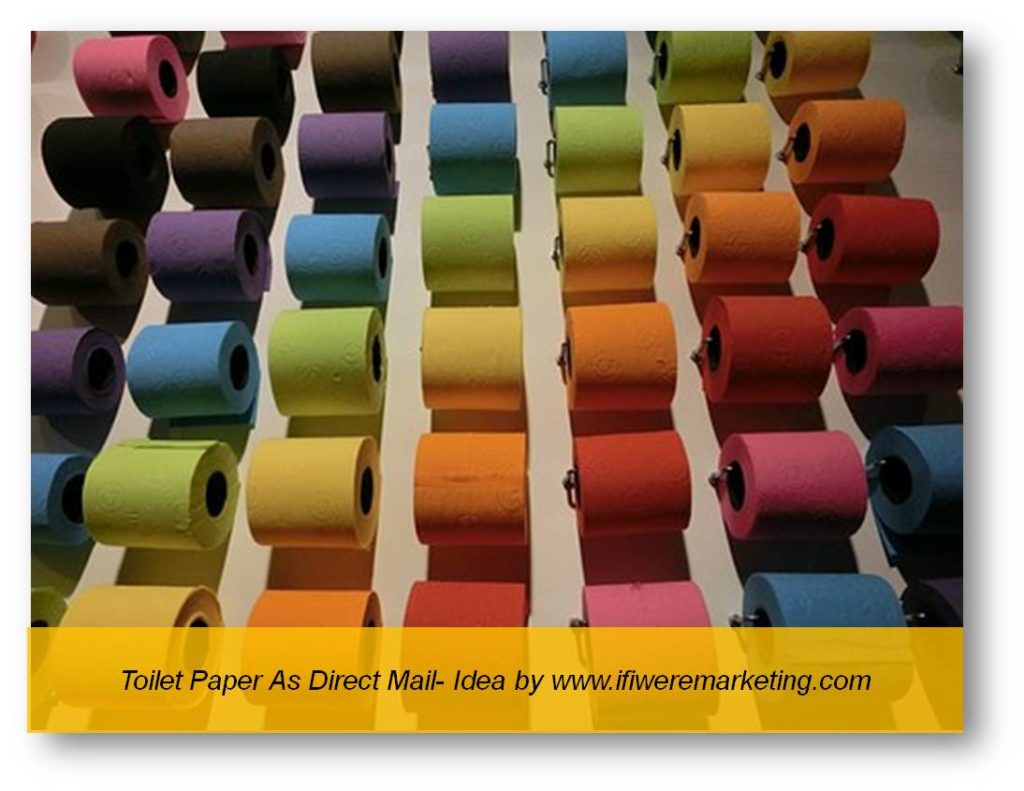 Flush out your ______problems. Give us a try. We promise to relieve you of your _________worries.
Another creative DM, this low cost yet definitely sticky direct mailer is especially great for creative services or products like maybe an ad agency or event agency , etc.
This wraps up part 1 of DIY, guerrilla, low cost marketing ideas for generating brand awareness.
You may checkout the video of these ideas and more here.
Tell me which one would you want to try first?
Next up will be Part 2 of the series covering the 2nd type of marketing ideas i.e. Low Cost Marketing Ideas For Lead Generation.
Phew! Now go have some nice hot or super chilled cup of coffee. You deserve it after spending quality time reading this power packed long read 🙂