Now usually, I write marketing strategies and ideas for a specific brand. It works better since the problems are more specific. The TG is better defined. But, just to break the routine a bit, I want to try writing for a customer segment as a whole- B2B vs B2C.  Instead of picking a specific industry, why not look at marketing for a specific customer segment i.e. B2B Marketing?
Now you may wonder how can we consider ideas that cater to a whole segment? This flies in the face of everything we hold dear like segmentation, targeting, customer personas, etc etc. How can the creative marketing solutions for a company selling concrete to a builder also be applicable to a company selling lace to a luxury fashion house?
You are not alone in these thoughts, my friend. I had the same doubts before i sat down to write this post. Let us jump in together and see if we can find B2B marketing solutions unusual enough to stand out, but flexible enough to work for an entire segment of customers.
So here goes…
If I Were Marketing @ A B2B Product/ Service (i.e. B2B Marketing)…
My Marketing Objective:
To create unusual yet adaptable and flexible marketing solutions to suit the needs of the entire B2B segment of companies, specifically, the SME B2B segment.
My TG:
Buyers and decision makers in companies, big and small.
My Marketing Strategy:
Company sub-segment
Why do I want to especially help those B2B companies which are smaller in size or newer in business?
Because they have limited budgets, smaller team size yet they could hit good sales if they can get a foot in the door with the big brands and businesses.
Underlying premise of this article
We can work out B2B marketing ideas that are industry agnostic because, across industries, most business buyers share common traits.
Commonality between B2B Buyers Across Varied Industries
B2B marketing is marketing to business buyers. They understand technical details of the product or service. A B2B buyer has to make fewer but higher value purchase decisions in a year. Hence, each decision is usually well researched, giving more weightage to product quality, technical specifications, company background, ROI, etc.
They are comparatively less swayed by typical feel good branding and marketing communication. But they are

more likely to visit company operations-

manufacturing plant/ office/ internal teams, etc

to form their own perception of the brand and company

.
They are wise to the ways of marketers and hence, it is more difficult to surprise them with a gimmick or guerrilla marketing tactics.
The size of the audience in B2B is usually smaller than B2C. So direct marketing is more doable in B2B marketing than in B2C. Inbound marketing would be comparatively more effective.
Smaller buyer base makes it possible to KNOW the customer i.e. where they work, whats their name, what do they do, etc.

Easier to create a very specific, very sharp customer persona.

In B2C, this is not possible. We have to rely on assumptions and educated guesses to build a buyer persona in B2C.
The effectiveness of the marketing communication is instantly visible in B2B. Feedback loop closes more often than not. Since the buyers are specific,

a marketer can easily find out what has worked, what has not worked

. This helps quick and efficient modification to the marketing plan.
B2B marketing is

comparatively less expensive

since smaller base of prospective customers have to be engaged.
Disclaimer: I will not be giving Linkedin networking ideas because using Linkedin for B2B marketing is a no brainer. It is hygiene. So I am assuming you are already using Linkedin for networking and messaging prospects.
Based on all this background….
Sticky Marketing Ideas:
1. Targeted Linkedin Ads: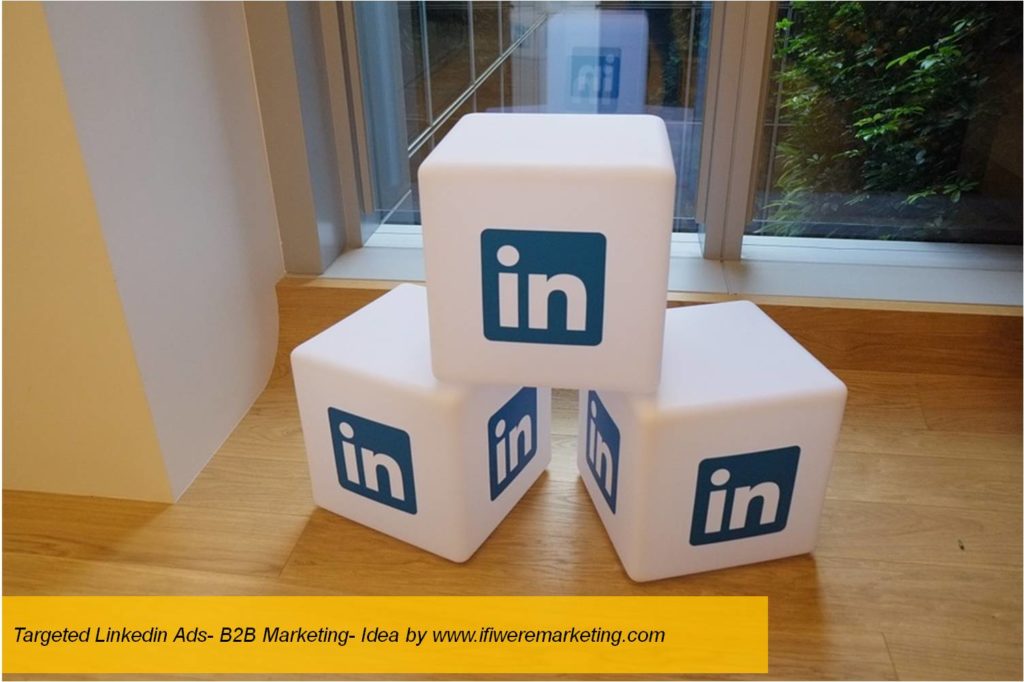 This is not the typical Linkedin networking idea. It deserves a special mention.
Draw up a list of prospective companies you want to do business with. Schedule meetings with them. A month or at least 2 weeks before each presentation, select employees from that company and target them for your Linkedin Ads. Example- In the last week of August, you have a first meeting lined up with Xerox purchase department. From the first week of August, select Xerox Purchase team on Linkedin Account based Targeting (and Function Targeting within companies) and expose them to your ads.
When you go to meet them, they will find your brand name familiar and they will assume its popular since they kept seeing it on Linkedin all the time. This predisposes them to atleast receive you with an open, if not, eager mind.
2. Interview The Buyer: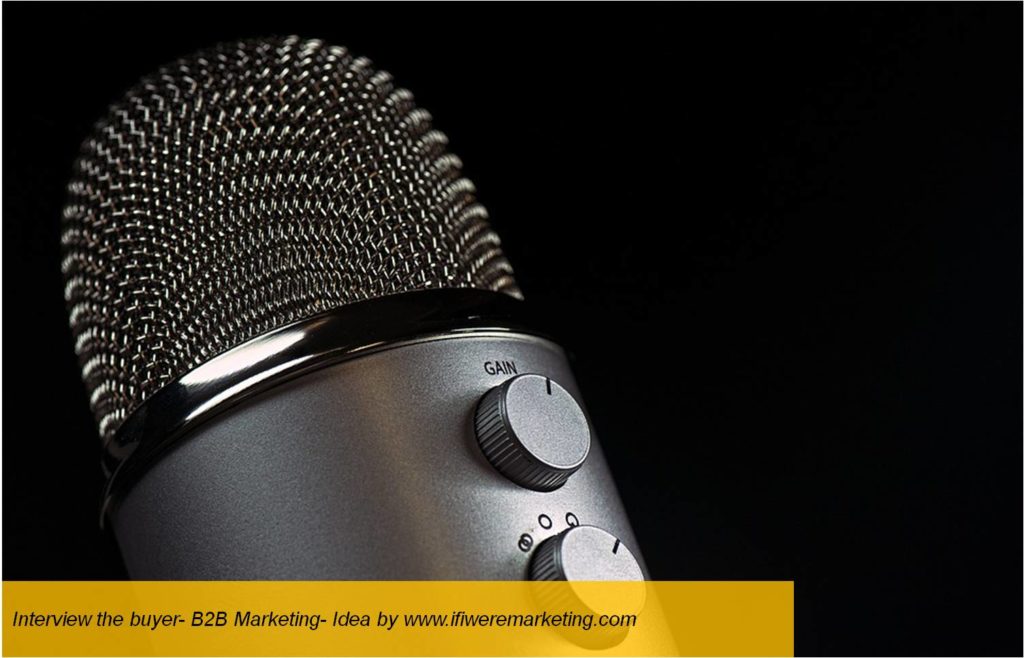 If you want an opening with your targeted buyers but don't think they will show interest in your new or small brand, then approach them for an interview. Interview on their take on industry news or their tips on making it in the industry, etc. Maybe publish the interview on your blog or compile all responses and release an ebook on the industry, anything works.
People like being considered expert enough to be an interviewee. They would be more open to engaging with you for that. Interview may get you a lead. Plus you get relevant content for your blog/ book.
3. Industry Top 10 or Top 20: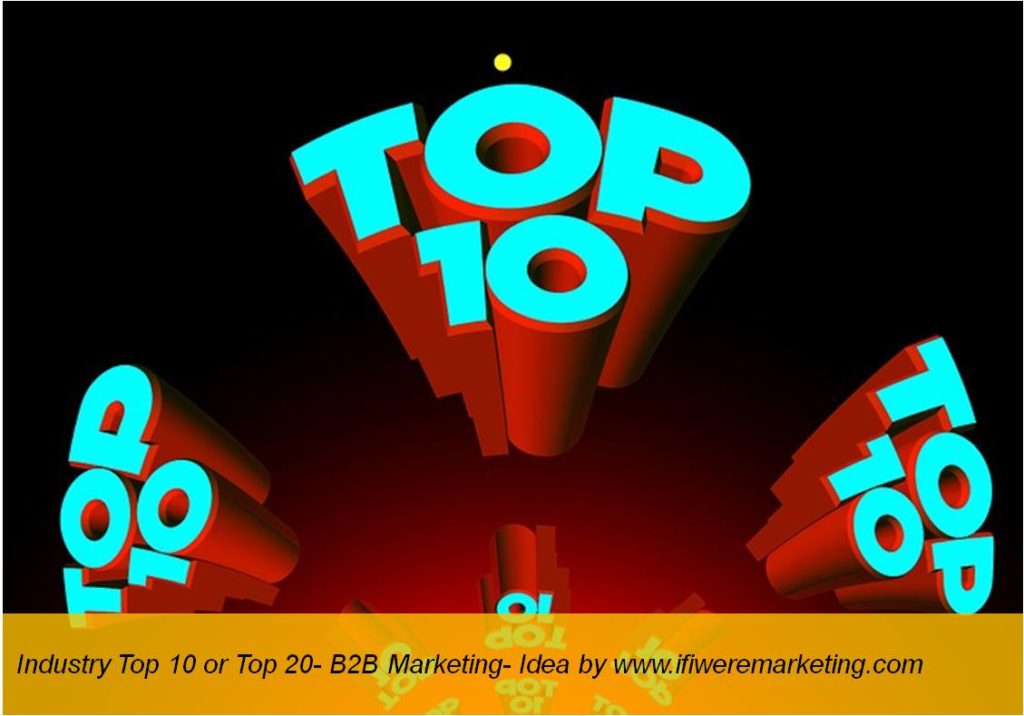 Like Feedspot has created online lists of the Top 100 Marketing Blogs (psst…this website is on the list) featuring the best marketing blogs and websites, why not start a list for your industry? Feature your target companies on the list if they meet the eligibility criteria. Publish and maintain the list online.
This is akin to creating Awards for the industry but far less expensive. The list will need some budget to promote it and gain weightage (try PR too) but it will again get you a point of entry at your shortlisted companies. Companies on the list can be given your branded online badges to display their list ranking on their website.
4. Industry research summaries: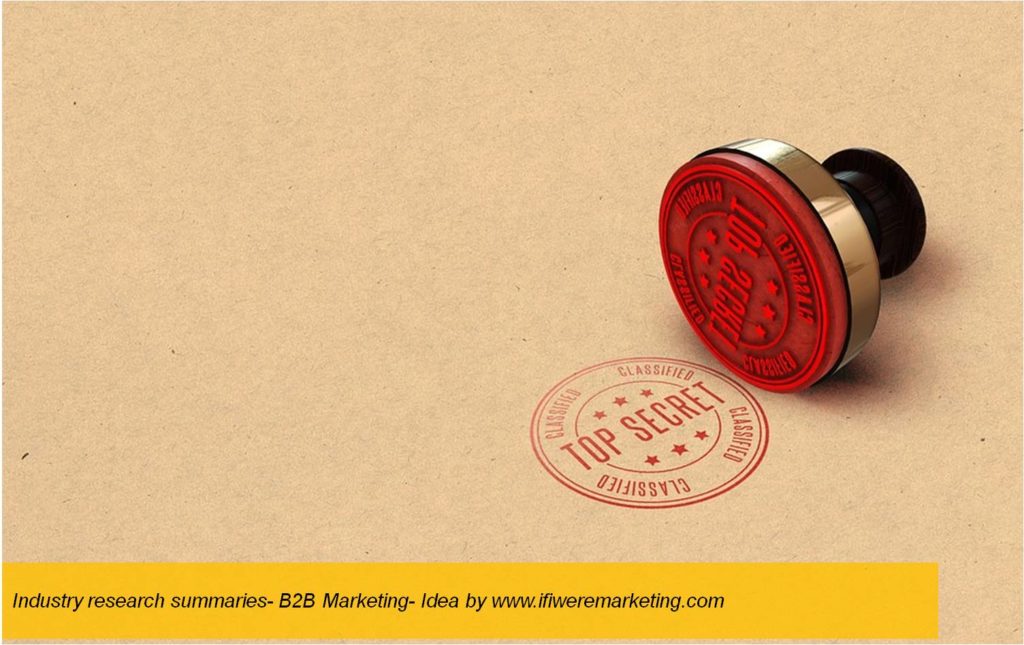 As most B2B buyers research before every purchase decision, why not assist them in it? You can purchase the best industry research papers and reports. Create short summaries or booklet of salient points and hand deliver them to the contacts or send a soft copy. It shows you are updated with industry news and it saves them time while staying updated.
5. Massive Open Online Course or Training Videos: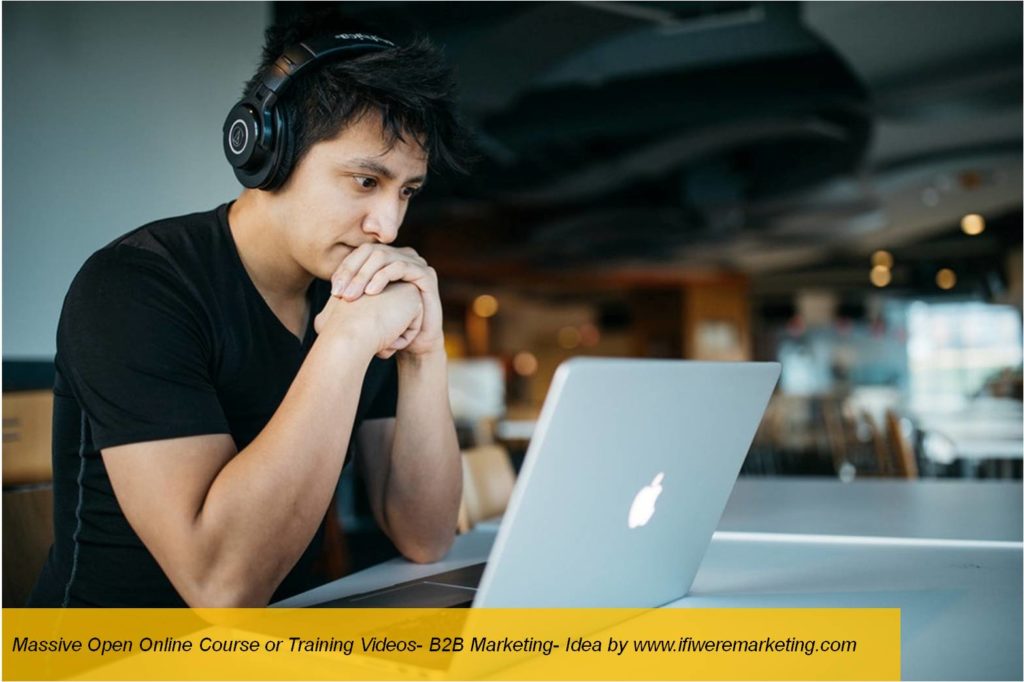 Every company has to train new joinees and interns. Training usually covers product training, industry best practices, skill or function based training. If your product is technical and caters to specific function, why not create general training videos or MOOC that companies can share with their interns during training?
It will share their training load, show that you are an expert, introduce your brand to newbies who will be your future buyers.
Example- Google Adwords- Google sells ads to brands, agencies and business owners. But its product is technical and hence it provides a certificate course in using the product and its benefits. 
A design firm in Sweden had tied up with a University and released a MOOC on Design Thinking for Managers. The course covered theory and also showed practical application of the theory by shooting the process session at the firm.
Note: Try keeping the training as neutral as possible. It should not be overly promotional. You can use the product to demonstrate the technology or application.
6. Drone it!: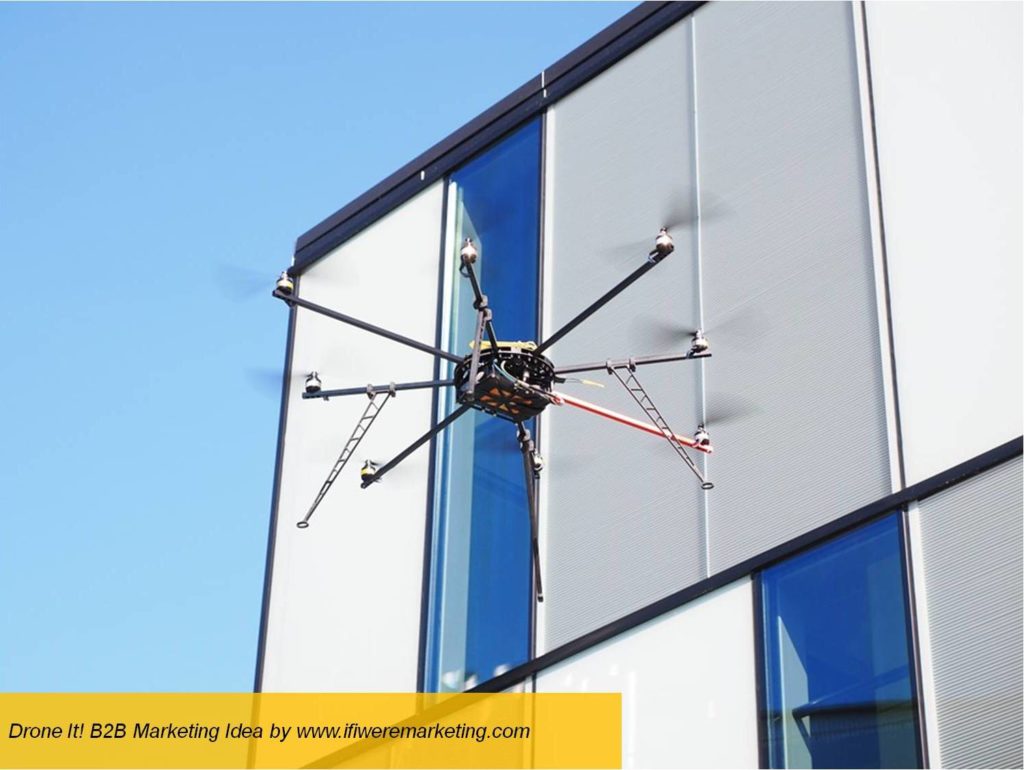 If you have a some amount of budget, try an eyeball grabbing idea– Fly a drone carrying your logo or banner outside the glass windows of the targeted company. (you would need to get local police authority permission but it is allowed).
Example. if you are a printer and you want Hindustan Times to consider you for printing their supplements, fly a Drone to the 9th Floor of the commercial complex where HT has its offices. Everyone on the floor is bound to notice it and talk about it. Then seek an appointment. It may just work. If nothing else, it will create brand awareness. 
7. Cause it!: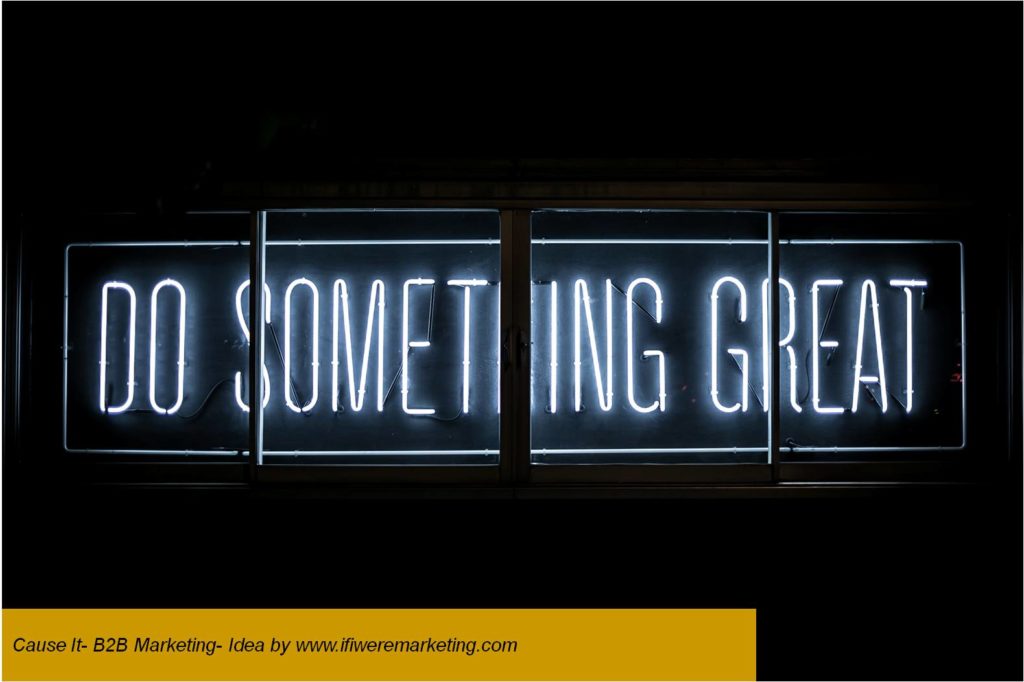 As a good corporate citizen, you would be supporting CSR activites and causes. Support a cause that resonates with your industry. And invite your targeted companies to be a part of it.
Example: If you are a textile manufacturer, you can support the clean water or water conservation cause since textile industry is one of the biggest consumers of water and polluters too. Your TG maybe fashion houses or brands. Invite them to join in the CSR activities planned by you. It could be a win-win for both.
Done!
These are some unusual yet flexible B2B Marketing ideas that could work for any industry. What do you think? Which do you think could be the most effective? Do let me know in comments.