Here are some thought provoking marketing and business books from my personal collection. These are my favorite, share-worthy marketing, creativity, innovation books from amongst the many many books I read across years. Each book here gave me something of value. Among the favorites, I have mentioned a few major disappointments too (books that were supposed to be 'must-read' yet were anything but).
Either got me clarity on the way forward, gave me a new way to look at a current situation, helped me think of ideas in a different way, enhanced my creativity/ imagination, etc.
Give them a shot. They may reveal different things to you.
If you don't want to read the entire book, you could read my notes and highlights from the respective links.
Only the Kindle editions have notes and highlights (of course). For those I read in hard copy, I can simply recommend the name here. You would have to do the heavy lifting of actually reading the book to mine its gold. But trust me, if the name is here, it will be worth the reading time and effort.
---
2018
The Power of Habit: Why We Do What We Do in Life and Business-Charles Duhigg (Hardcopy)
Thought of reading the book from marketing point of view. For effective advertising and marketing, the consumption habits of people have to be targeted. I liked more than half the book. The last few chapters didn't seem relevant to me as a marketer. They were about social movement.

I loved the entire episode of Alcom company and how one small organizational habit transformed the entire organization. There were just a few company related examples. The science behind the book was partly new for me …more
Call of the Mall: The Geography of Shopping-Paco Underhill (Hardcopy)
Recently, I got a project on Shopper Marketing. Its a very interesting field of marketing. In college, i had read Paco Underhill's Why We Buy. Had loved it. It was eye opening. So thought, lets brush up on shopper marketing by reading the same author's latest work. Hence, this book.

The book may have worked well when launched but in today's world, reading about malls is akin to reading historical fiction. It is a walk down memory lane (even if not your own memory). Things like this used to exist but they barely register now. In today's times of ecommerce madness, offline shopping is suffering in general, including malls….More
Made to Stick: Why Some Ideas Survive and Others Die- Chip Heath

, 

Dan Heath (Hardcopy)
My Review
The book is filled with anecdotes, stories and examples. That makes for an easy read. Yet the stories convey the core message of what makes ideas stick. They have suggested a framework to help anyone improve their communication and ideas. It explains HOW to make ideas stick. Clubbing this book with Jonah Berger's Contagious which explains the WHY of virality makes for a complete education on virality of ideas. The SUCCESs framework recapped at the end is a handy reference tool. The book is a must read for any communicator/ marketer for sure.
Contagious: Why Things Catch On – Jonah Berger (Hardcopy)
My Review
I had taken the Viral Marketing MOOC conducted by Jonah Berger. It was based on Stepps principle that Contagious is built on. It was good that he wrote it down in book format because it makes for better referencing. I cannot keep revisiting the MOOC lectures but I can keep browsing through the book as and when I need to.

Content wise, to the point, no faff and every point mentioned was supported by scientific evidence. As a marketer, the book was invaluable . It helped sharpen certain thoughts a …more
The book was super generic and the information given was common knowledge. Nothing new, nothing different. Very boring. Felt like it was compiled from a dozen existing and old marketing and entrepreneurship books. Not at all worth spending on. You can simply read noteworthy passages from my notes and highlights here.
The Innovators: How a Group of Hackers, Geniuses and Geeks Created the Digital Revolution (Hardcopy) Walter Isaacson
My Review
When you start reading the book, it feels heavy and for a non-technical person like me, it went over my head- because it was too technical- the initial chapters were about mathematicians, followed by chapters on programmers and transistor etc. The people parts of these chapters were good though.

Then as you proceed further into the book, things start becoming less technical. Or maybe because you start moving closer to the technologies we use currently, they were easier to understand.

Through all …more
After reading Homo Sapiens by Yuval Noah Harari, I thought this book started out as a rehash of Homo Sapiens. but as it progressed, it turned out to be as interesting as Homo Sapiens. intriguing. gave a very different way to look at the fast paced developments taking place all around us.

For both the books by this author, one thing that amazed me was the depth of research he did to put together these two. outstanding tomes.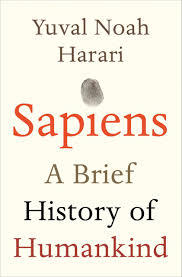 My Review
Though this page lists marketing and business books, this book Sapiens deserves special mention because it completely changes your perspective about the most fundamental things like family, humans, religions etc. Change in perspective will have a rub off effect on all aspects of your life- personal or professional. Hence, this book makes it to this list.
Some of my favorite lines (click here to read the rest)
When you call on your colleagues to learn the going rate for an upcoming job, you might try one of these conversation starters: "I'm talking to a client about [type of job]. Have you done anything like that recently?" [After loosening up the consultant, add the next line.] "Would you mind telling me how much you charged?" "I have the possibility of [describe work]. Do you know the typical rates for this kind of job?" "A client has asked me to do [type of work]. Do you know anyone who's done this sort of job who might be willing to talk to me, especially about rates?"

negotiation involves distinct steps, and what is on the table differs at each stage: Stage 1: dollars—Talk about how much money you will receive. This is what the client expects when discussing the consultant's fee. If you feel there is wiggle-room in your initial price, you may offer a lower price at this stage should the client balk. Stage 2: the job description—If the client simply cannot come up with the money you feel is appropriate, try to alter the parameters of the job. Useful negotiating points at this stage include the timetable or schedule, the size of the job, the number of times …more
My Review
The book is less a biography, more a chronicle of two unique companies- SpaceX and Tesla. It is fairly detailed in the founding stories and successes and failures of the two companies. Also in the role Elon Musk plays in both.

Elon Musk comes across as Steve Jobs version 2.0. He is as driven, as focused, as insensitive, as visionary as Jobs. Having read Steve Jobs' biography too, the comparisons are inevitable.

But reading the book, I came away with a sense of hope for the future, knowing there …more
Some of my favorite lines (click here to read the rest)
The DEAL of deal making is also an acronym for the process of becoming a member of the New Rich. The steps and strategies can be used with incredible results—whether you are an employee or an entrepreneur. Can you do everything I've done with a boss? No. Can you use the same principles to double your income, cut your hours in half, or at least double the usual vacation time? Most definitely.
A year later, fashion retailer Nordstrom made dedicated areas of their bricks-and-mortar stores designated Pinterest sections, which included some of the most pinned products from the Nordstrom Pinterest page that week.
Another great example comes from S-Oil. The South Korean petroleum provider's 'Here' campaign chose a simple solution to one of the biggest problems faced in modern cities: finding a parking space. Hi-tech solutions to the issue include Germany's ParkTag app, which uses smartphone-enabled crowdsourcing to create a map of free parking spots to be shared among friends. But S-Oil sought a solution not reliant on smartphones or sensor systems, and joined with Korea-based advertising agency Cheil to tackle the issue – with balloons.

Bright yellow arrow-shaped balloons were placed in the middle of parking bays, tethered to the ground by a piece of string. The arrows were boldly emblazoned with the word 'HERE', to indicate a free space. When a car drove into the spot, the string was pulled under the vehicle, drawing the balloon down. When it left, the balloon floated back up again, instantly alerting those nearby that the space was being vacated
My So-Called Freelance Life: How to Survive and Thrive as a Creative Professional for Hire- Michelle Goodman (Hardcopy)
There were so many places in the book that I said 'true that'!!!!! it was very relatable and hence, helpful. Nicely written- with a good dose of humor. It covers all the steps that a person, specifically a lady, would need to cover when venturing into the freelance waters. There are many books on this topic. But this was fun to read and helpful too. The content was not clutter breaking but covered…More
The 48 Laws of Power- Robert Greene

 (Hardcopy)
I read half the book. I couldn't proceed because i found it too negative. power need not come only if you manipulate, lie, cheat, betray. there are other ways to get power too. I completely disagree with 48 laws because each law and examples therein were too black, extreme.
---
2017
This was supposed to be one of the 'all time marketing greats, all marketers should read' kind of a book. I thought the book would about how the medium should be used to convey the communication message. A marketing book from media perspective but it was not that at all. it turned out to be a social and media history of human civilization. hardly any connect with marketing and advertising. the book should be classified under sociology or history, not marketing.
One way of overcoming the mind's natural stinginess when it comes to accepting new information is to work hard at presenting your message as important news. Too many advertisements try to entertain or be clever. In so doing they often overlook the news factor in their story. The Starch research people can demonstrate that headlines that contain news score better in readership than those that don't. Unfortunately, most creative people see this kind of thinking as old news. What they should be focused on is the need to dramatize that selling message or news. If people think you've got an …more
These are the three hunter instincts—insatiability, curiosity, and willingness to destroy.