Jinal Shah- Serial Ideator (Marketing Strategist)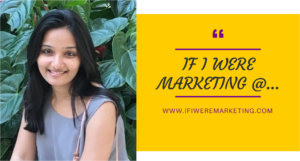 So one fine day, sipping on my lemon tea, I had an epiphany- 'Why is marketing communication a one- way bombarding of information? Why is it not a two way communication and engagement- for the consumers and for the brand?' (Never thought lemon tea can have this effect, right?)
This was back when I was a Senior Manager, Marketing @ Godrej Appliances. I got spurred to try 'clever (a.k.a. innovative)' ways to market and advertise our products. The business results of those fledgling efforts were promising.
Excited, I thought, what if I were to make it my life's mission to ensure every marketing communication is fun and entertaining, not just the usual one way street? Enter- www.ifiweremarketing.com and my reincarnated version of Serial Ideator (one who keeps coming up with creative marketing ideas). This website has 300 + unusual and fun marketing ideas across 20 industries.
Now don't get me wrong. When I say fun marketing, I don't mean frivolous or random marketing. It has to be strategic marketing but with some entertainment value for the customer. The guy who is the life of the party is usually the one who is entertaining everyone around him- be it through dance or drama or storytelling or what have you! It is definitely not the guy who drones on and on about himself. My aim is to come up with ideas to make your brand the first guy, life-of-the-party guy!
So after my lemon tea drinking epiphany (oh alright, ephiphany part is an exaggeration, lemon tea part is a fact) I moved into the role of Director, Marketing @ Citrus Bathrooms. At Citrus, I got a taste of B2B marketing and operations. I realised this idea of marketing applied well enough to the B2B segment as well!
When I don the hat of the Serial Ideator, I am giving 'sticky' marketing ideas that are a strategic fit, memorable, non-traditional. Coming from the client side, each idea has a foundation of practical business reality. Otherwise, what's the point, really?!
If you are motivated to communicate your brand in a fresh way, lets work together.
I am not being a humble brag here but since this is the About Section, let me disclose that this website has featured in Feedspot's Top 100 Marketing Websites twice (2017, 2018).
I have been a speaker on Guerrilla Marketing Ideas at the awesome Uppercase Conference.
And I am published on Economic Times' Brand Equity too.
So, if we work together, rest assured you will get unusual yet actionable strategy and insights.
Just drop me a line at jinal@ifiweremarketing.com and we will take it from there.
Published On