Since the last few years, movie marketing in India has been following a standard set of ideas like a formula (almost)-
Movie Marketing Idea = Appearance on all the possible reality shows about 1-2 months pre-release + a customary appearance on Taarak Mehta Ka Oolta Chashma + a necessary halt @ The Kapil Sharma Show + some rumor creation + brand tie-ups
Barely any movie marketing breaks this mould. Why? Film making is an extremely creative field. Then why is there no creativity when it comes to marketing ideas for the movie? Studios spend millions on making stunning movies and marketing them but why can't they spend that promotion budget differently?
So, for no reason other than bringing some creative ideas to movie marketing in general, I am writing this article. The movie closest to release right now is upcoming Bollywood blockbuster Sultan- starring Salman Khan and Anushka Sharma, releasing on 6th July, 2016.
For those who don't know, the plot revolves around a wrestler who dreams of winning the Olympics Gold for his country but his love life and resulting problems make him give up on that dream. He later comes back to it with a vengeance, for the sake of that love.
Marketing Efforts
Salman Khan alone is more than enough to pull in the crowds. Add an Eid release to it and you have a sure shot fully packed first weekend. Besides these factors, the Yash Raj Films marketing team has also launched a mobile game- 'Sultan-The Game'.
The game is targeted at the 15 to 25 age group. 'Sultan: The Game' is a wrestling game and it has 60 different levels and seven opponents. Ten people who finish first in all the 60 levels will get an opportunity to meet Salman at Yash Raj Studio in Mumbai also get movie tickets and gifts- Times Of India
Social media marketing efforts include Twitter contests- like Dubsmash video contest and selfie contest for Timex watches giveaway.
Besides these standard marketing activities, I have thought of some fun and innovative marketing ideas that can be implemented in a short time and also some that ensure longevity.
If I Were Marketing @ Sultan-The Movie…
My Marketing Objectives:
Quick implementation and quirky movie marketing ideas pre release
Ideas to continue buzz and footfalls post release (because usually, promos stop after movie release)
Sticky Marketing Ideas:
1. Punching Bag Campaign: Punching bag at railway station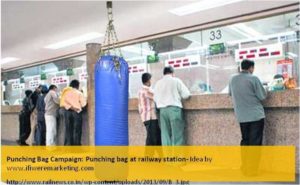 Place punching bags at ticket window of crowded local train stations like Delhi Metro or Mumbal local or metro station. These are the places where people's stress levels are pretty high because of the crowd. People are welcome to punch the bag. The bag will carry the movie slogan- 'Wrestling is not a sport. It's about fighting what lies within'.
2. Punching Bag Campaign: Dented/ out of shape punching bag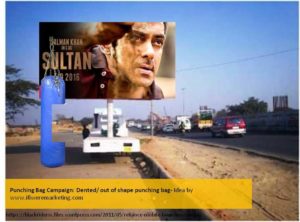 Hang a badly out of shape or dented punching bag on mobile hoarding van with the message 'Hit by Sultan! or Sultan practiced on this!'
3. Punching Bag Campaign: Game of three punching bags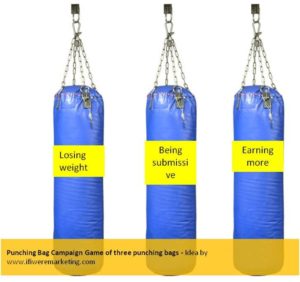 Another mobile game or a short online game could have 3 punching bags. Each can be named by the player with something she wants to fight or change within herself. Once named, she can punch away her frustration. The bag will say demoralising dialogs everytime it is hit till the player manages to overthrow or overpower it. Victory Message- Fight what lies within.
4. Punching Bag Campaign: Door entrances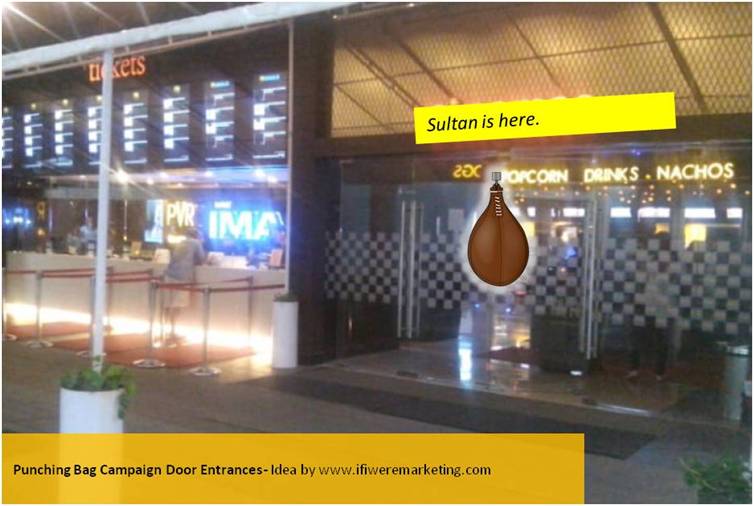 At the entrance to PVR movie theatres, hang a punching bag from top- Sultan is here.
5. Glove Campaign: Tearable wearable paper glove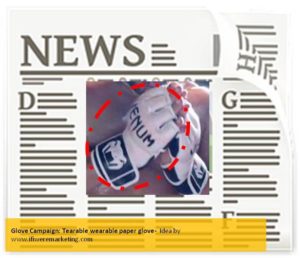 In the week preceding release, in all the English dailies, release an ad in the entertainment section with a wearable tearable paper boxing glove like the one Sultan wears. Who would not have fun wearing paper boxing gloves? It could go viral with people posting pictures of them wearing the Sultan Gloves.
6. Glove Campaign: Newspaper biceps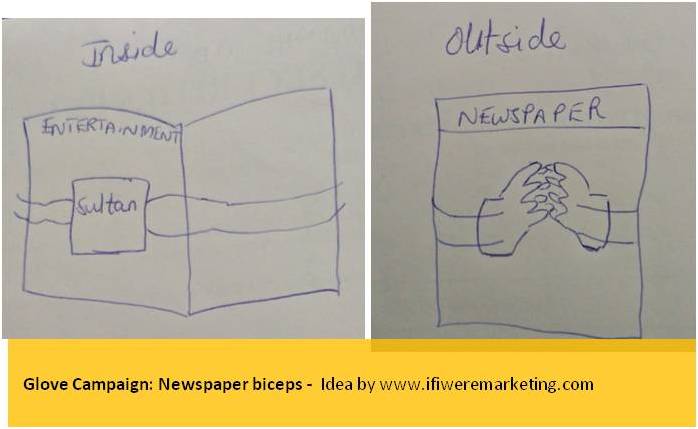 Do a print ad innovation– from either side of the newspaper, biceps come out and meet in the middle wearing gloves doing namaskar. The biceps would be jutting out from the Sultan ad in the entertainment section.
7. Glove Campaign: Biceps between street lights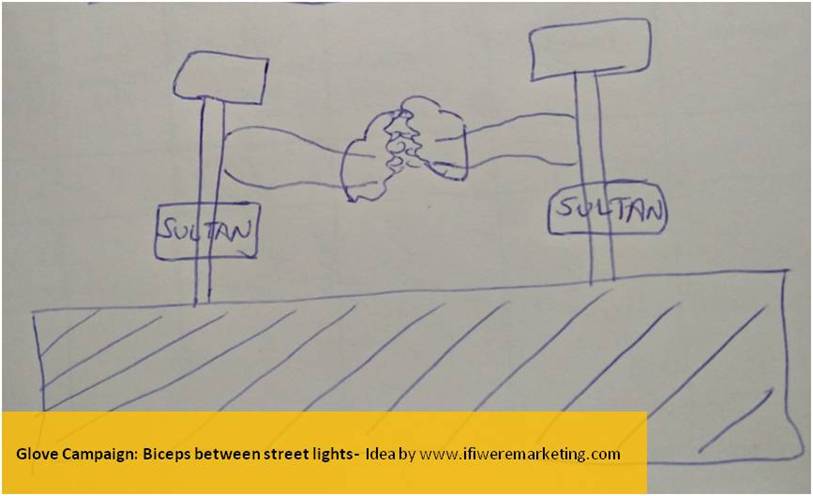 Have biceps coming out from opposite street lights, joining in the middle doing a namaskar with gloved hands.
8. Glove Campaign: Tearable discount coupon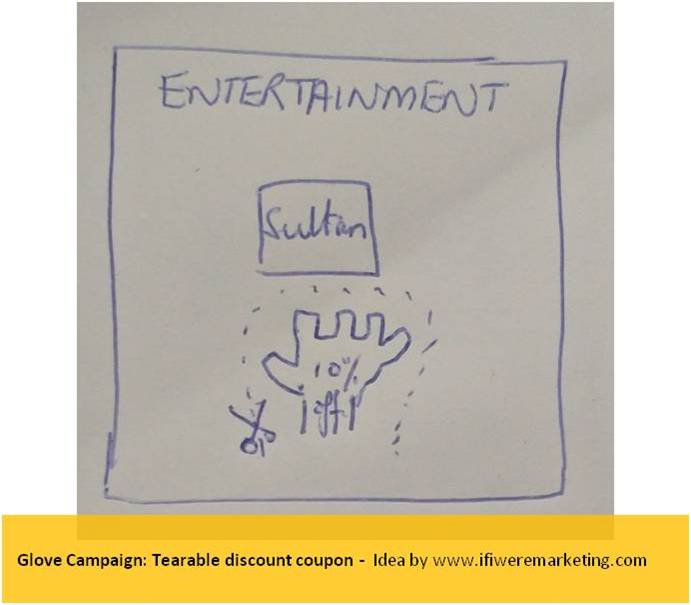 Two weeks post release, to ensure continued high footfalls, cinema listings ad, print a wearable tearable glove which would would entitle the person to a discount of 10% on the movie at theatres mentioned in the ad.
9. Glove Campaign: Traffic signals
Take the most crowded or important traffic junction in the major cities. 4 promoters, wearing the sultan wrestling gloves and wrestling robe, cross the road when signal turns red. They cross the road everytime the signal stops through the day. This will get people wondering for sure. They get answers seeing poster of Sultan on the other side of the signal.
10. Glove Campaign: Foam gloves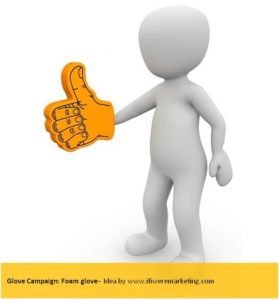 These could be for merchandising. Available for sale online. Can be used as party prop or photobooth prop.
11. Love or Glove Campaign: Digital Guerrilla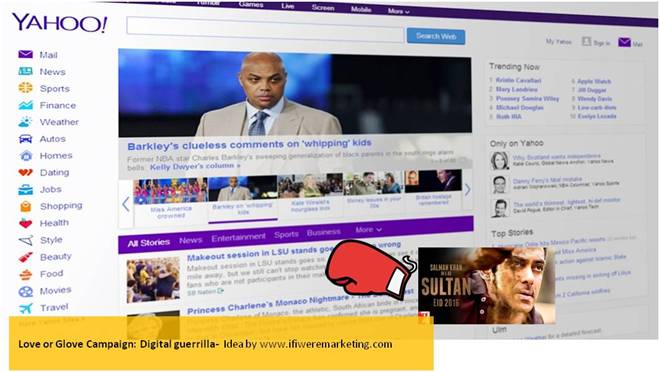 On news websites, an ad pops up next to news item about crime or something bad- 'Want to fight it, Sultan style? Click Yes'. When clicked, a Sultan glove comes from the side and kicks the item out or shakes it up with a punch, followed by movie slogan.
12. Love or Glove Campaign: Memes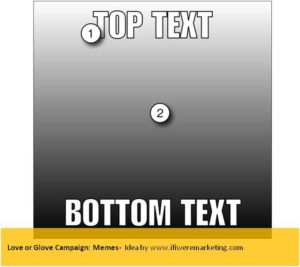 Every popular brand tagline having the word 'love' or 'loving' in it can be twisted to 'Glove' or 'Gloving'. Eg. McDonald's says I am lovin it. So the meme can say- Sultan is Glovin it. 
13. Love or Glove Campaign: Twitter Polls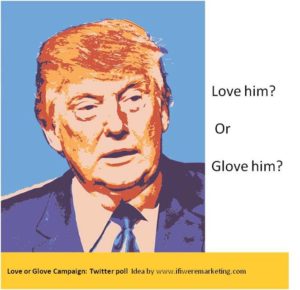 Do a daily Twitter poll pre and post release. Take the trending topic and put a picture with Love or Glove as poll answer options. Example: Donald Trump is a trending topic. Put his picture with a question- Love him or Glove him? Such polls and pictures can get highly viral.
14. Where is Sultan Campaign: Bus stop wrestling ring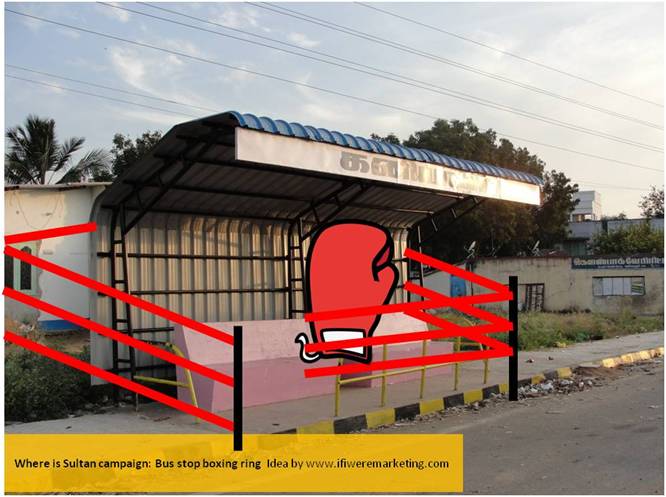 Put wrestling ring ropes around high footfall bus stops. with only a big glove cutout in the middle- Where is Sultan? He is in the theatres!
15. Where is Sultan Campaign: Mall Parking Lots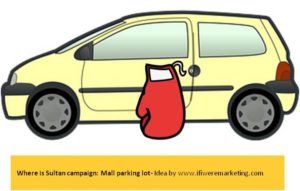 Two weeks post the movie release, in the parking lots of malls showing the movie, hang a leaflet shaped like Sultan Glove on car doors. The message on it will be- Sultan is in theatres but he forgot his gloves. Care to return it to him? It could contain a discount code or not, depends.
That's it! Do you think these movie marketing ideas have a fighting chance in breaking the movie marketing clutter? Would love to get your feedback in comments.