Demonetisation was the only thing talked about across India in November-December, 2016. The brand that shares top of mind recall with 'Demonetisation' currently is 'Paytm' digital wallet. There are many digital wallets in India but Paytm was one of the first movers and a heavy ad spender. This ensured everyone KNEW brand Paytm but demonetisation has ensured everyone TRIES the product atleast once.
Between Nov. 10 and Dec. 20, Paytm added over 20 million new users, taking its total user base to 170 million. Within two weeks of the demonetisation announcement, the company, which is backed by China's Alibaba Group, was racking up over seven million transactions per day—more than the combined average daily usage of India's 24.5 million credit cards and 661.8 million debit cards.

But the company's dream run over the next few weeks wasn't quite the fairytale.

This sudden success stirred up some trouble for Paytm and its CEO. Over the past few weeks, Sharma and Paytm have come under fire for everything from insensitive advertising and technical glitches to allegations of an alleged copyright infringement and incidents of fraud and cheating- Quartz
Paytm's Branding and Marketing
Technical issues aside, from a purely brand positioning and brand recall point of view, it scores beautifully. From the time it entered the market, it has been trying to make Paytm a verb, a la Google. Hence, the tagline 'Paytm Karo'. These days, people usually say 'Let me Paytm it to you' when they mean 'let me pay you digitally'. So…mission accomplished…….almost!!
The brand team at Paytm seems to be in a perpetual overdrive, trying creative brand partnerships (like marketing maestro Uber), active social media presence, heavy marketing spends, innovative media tie-ups like placing the Paytm logo under the NDTV logo (unmissable and in-your-face), awareness camps, advertising boards with Vegetable Vendors, scholarships for offline merchant onboarding, et al.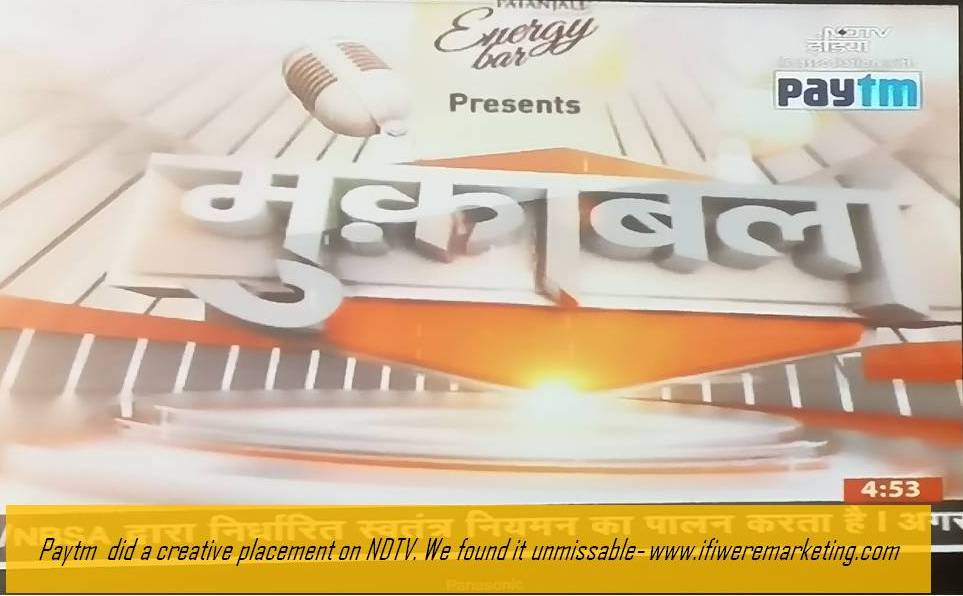 The Potential Problem
Even though customers are flocking to the app right now, there are chances that once the cash situation in the country eases, they will revert to offline payments instead of digital payments.
Fitch Ratings believes that once the cash crunch subsides, some merchants and customers will go back to business as usual, using notes to pay for transactions…. "We're still not sure if this shock per se is incentive enough for them to completely change the way they do things."- Reuters
The company has spared no expenses in making most of the serendipitous situation.
We don't expect that newspaper front page advertisements and television marketing come cheap for Sharma. Although the company had announced earlier that the advertisement and marketing budget for this financial year was Rs 600 crore (Rs 50 crore per month), it was reported that it expanded this by 300 percent this month- Your Story
The brand will now have to ensure that it does a good job of retaining the customers gained due to demonetisation and continue with the growth momentum. With this brand background,
If I Were Marketing @ Paytm Digital Wallet…
My Marketing Objective- Customer retention + up-sell/cross-sell and new customer acquisition.
My Target Group- All adults, with a skew towards 18-30 yr age group.
Sticky Marketing Ideas
Retention of existing customers (Give them reasons to use Paytm even when cash is available):
Acquisition of new customers:
This is it, folks. Which of these ideas did you like the best for Paytm marketing? Let me know in the comments below…